Desk Lamps work great when it comes to reading books, playing the piano and for other similar things. Almost everybody need a desk lamp in their study room or play room for doing their work in enough light.
TaoTronics lamp is the best solution for all the desk lamp needs. They are a very popular brand now and all their products are excellent in their performance. Some of the best TaoTronics lamps are:
6. TaoTronics Lamp with USB Charging Port
---
---
This lamp has got four lighting modes and also five different levels of brightness to suit your mood. For reading, you can select the cool white light whereas you can easily go for the powerful white light for studying.
Also, you can relax and sleep under the soft lights of this desk lamp. The foldable design of this lamp allows us to keep and store it anywhere easily. You can adjust the light according to you and it has a rotatable and adjustable arm.
What I like
What I really like about this best TaoTronics lamp is – it has a timer which you can turn on and the lamp will go off automatically after one hour and hence you need not worry about falling asleep while reading or studying.
It has a USB port that is built-in for charging tablets and phones which is another great attribute of this particular lamp. Also, you can save a lot of energy and money as this lamp uses 75% lesser energy than all the other desk lamps.
What I don't like
This desk lamp could be better if it had a matte black finishing as it does not have a very appealing look. Further, what I don't like about this product is that it has very tiny on and off buttons are difficult to be properly pressed.
Pros:
High quality
Four light settings
Good adjustability
Vision friendly
Cons:
Weak charge through the USB port
The control panel swivels with the lamp
---
5. TaoTronics Lamp, Eye-caring Table Lamps
---
---
This best TaoTronics lamp had been designed to be stable, soft as well as non-flickering so that the light is really friendly on one's eyes and you can do whatever you like for a long time without having your eyes tired.
You can slide your fingers across the touchpad for setting the lighting modes and the brightness level as per your choice.
The flicker free light will help you read, study and work without any trouble. The features of this lamp include five color modes each further having seven different levels of brightness.
What I like
The modern design of this fine lamp is really impressive and it naturally fits with every type of decor whether it's an office or a bedroom.
There is a one year warranty on this product which you can extend for another 18 months with a warranty extension option.
With this, you can use this desk lamp for a long time without worrying about its performance. Another thing what I like about it is that the power cord they provide along with the lamp is 150 centimeters long, that is 59.05 inches.
What I don't like
The base should have been heavier because it moves around whenever you have to adjust the angle of the light.
It is usually shipped in a non-recyclable foam and has a sturdy plastic handle that is built inside the box which is another thing that is triggering as they could have otherwise used eco-friendly packaging materials.
Pros:
Plain and simple
Perfect for every type of room
Modern-looking
Adjustable and can be customized easily
Cons:
Not very tall
The DC adapter is placed outside the base and hence affects the overall look
---
4. Tao Tronics TT-DL16 Stylish Metal LED Desk Lamp
---
---
The Tao Tronics TT-DL16 LED desk lamp comes with an in-built timer and a night light mode that helps you sleep peacefully under the soothing light of this lamp.
It is made of a very stylish looking metal that gives it a sleek look and design which is durable. The full metal body has got a scratch-free surface to prevent any kind of scratches at all.
This best TaoTronics lamp has got an advanced memory to remember what your last setting was and also remember the ideal setting that you can save anytime according to what temperature and light mode you exactly like.
Once you save your favorite light setting, the lamp will automatically switch to this mode every time you turn it on.
What I like
The versatile lighting and the adjustable reading angle are two great aspects of this desk lamp. The neck, the base and the head of this lamp are all rotatable and can give you light from almost every position possible.
You will be getting the lamp along with a power adapter, a cleaning cloth and a user guide which will help you discover all the great features of this desk lamp.
The light guide panel is known for transmitting light sideways that provides glare-free illumination.
The 5V/2A USB port, 60-minutes timer, the night light and the memory function are among the other great features of this TaoTronics lamp.
It is undoubtedly the most brightest desk lamp out of all the other TaoTronics LED desk lamps.
What I don't like
What I don't like about this particular lamp is – it has a very high frequency whine when it used in any mode and that is very annoying at times.
Also, I don't like the fact that LED bulbs in the lamp cannot be replaced at all if they ever stop working.
Pros:
Allows easy adjustment
Easy night light option
Fingerprint resistant finishing
Good quality materials used
Moves and rotates in all possible directions
Cons:
Gets hot when used on the brightest setting
Turns off automatically sometimes
---
YOU MAY ALSO BE INTERESTED IN THESE:
Best Led Shop Lights Rose Flower Lamp Best Desk Lamp For Office
---
3. TaoTronics Lamp, Eye-care Dimmable Lamp
---
---
The main features of this Tao Tronics glare-free desk lamp include the dimmable light, the five different color temperatures, and brightness levels, and the excellent touch control.
It has got a sturdy build of aluminum alloy that makes it look great. There are no buttons at all on the surface as you can simply access all the options and settings through the touch panel.
What I like
What I like about this lamp is its performance. The performance delivered by it is not just like the standard performance given by other desk lamps.
Because it has got various levels of brightness and many different light modes which you can choose every time according to your mood and need.
You also get to select the temperature of the light. It has a perfect combination of technology and style.
You can choose between the present color temperatures that are of 3500K, 4000k, 3000k, 5000k and 6000k and can then choose between 5 brightness levels. This means that you can select from among 25 different lighting combinations.
What I don't like
The blue light on the surface of the lamp is constantly on and is very bright on the eyes. It is very annoying as it is not used for anything but is simply on all the time.
Also, the lamp does not swivel around much so you have to move the whole lamp if you have to change the angle.
Pros:
Faster and safer charging with the USB port
Provides natural light that is glare-free
Has an energy-efficient touch panel
Bright adjustable light
Good memory function so that you can save your settings
Cons:
The extremely bright blue light on the surface.
Difficult control system that is hard to understand
---
2. TaoTronics Gooseneck LED Desk Lamp
---
---
The TaoTronics lamp with a flexible gooseneck is known for being multifunctional and diverse. The touch controls are very user-friendly and the color modes, as well as the brightness levels, suit every need of the user.
It has got durability and flexibility both combined to give a great performance. The gooseneck helps in delivering light wherever it is exactly needed.
What I like
The LED panel of this particular lamp is eye-friendly and does not cause any problem to the user. You can hence enjoy the flicker-free light that will help you study or work for a long time easily.
Another thing I like about this lamp is that there are seven brightness levels offered so that you have more options to select from.
What I don't like
This TaoTronics lamp is all good except that it has no timer. Also, the top piece of the lamp is very heavy so if you twist it, the piece might come off.
Pros:
Elegant and sleek build
Energy-efficient technology
Flexible gooseneck for good flexibility
Easy and simple user manual
Flicker-free lighting
Cons:
The touch buttons do not have light making if difficult to see them in the dark.
---
1. TaoTronics Lamp TT-DL27
---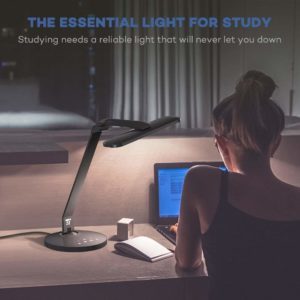 ---
This TaoTronics lamp can be rotated in any direction fully and it can easily swivel, adjust, rotate and bend in any direction. It is fully adjustable for getting the perfect angle for lighting.
The LEDs in the lamp line the edge of this desk lamp in a way to provide glare-free light that will protect your eyes.
What I like
What I like the most about this best TaoTronics lamp is – it has got four distinct light modes for sleeping, studying, relaxing and reading.
This lamp is truly optimized for every activity. You can also very easily activate the timer by holding down the power button.
What I don't like
The power chord of this great lamp is very short and hence you can keep it only near the sockets and an extension cord is compulsorily necessary.
Pros:
Strong metal finish
Convenient USB charge
Easily rotatable
Compact design
Cons:
Short power cord
Intense small blue light at the surface
---
YOU MAY ALSO BE INTERESTED IN THESE:
Best LED Tube Light V lights Boston Lights
---