People who spend a lot of time at their desks, studying, have to be very careful when they choose their lamp. Improper lighting conditions can be very harsh on your eyesight.
So you can easily end up ruining your eyes, if you ignore advice from professionals to buy the best light for studying you can find.
This is one of the best investments you could possibly make in your health, so you should think twice before going for the cheapest source of lighting.
The best light for studying should be one that provides you enough light to see without putting a strain on your eyes.
The light should be powerful, yet not focused directly on you. This means the lamp should be adjustable in height, in order to allow you to place it the right distance from your desk.
---
---
The beam of light should be directed on the surface. It should highlight the very area you're working on. Whatever you do at your desk, you should be able to focus your light where it's needed.
The light fixture on your ceiling is never going to provide you the proper amount of light needed for reading or writing at your desk. You need a source of light that enables you to focus it right on your book or on your paper.
Although most table lamps for study are fairly inexpensive, there are some pricey models. They feature a light dimmer which enables you to use your lamp while working on your laptop or while watching TV.
In such situations, a bright beam of light would be rather disturbing, so you have to dim it until it becomes diffuse and soft.
---
---
LED lamps are also more expensive than halogen or incandescent ones. However, if you intend to use your lamp for many hours a day, you should consider investing in a LED one, as it will be less expensive to use than the other versions.
You shouldn't underestimate the power consumption of such a lamp, as it can add up to fairly high amounts. Besides, LED lamps run cool to the touch. This makes them a very good choice for homes with children or pets.
Moreover, if you hate getting hot while studying, you're going to be happy to have your LED lamp on for most of the time. This would also help you avoid burning yourself by accident.
If you've ever touched a hot incandescent lamp, you probably know how much it can hurt and what kind of burns you can get. LED is a much safer alternative, so you should consider it as one of your best possible options.
Taking also into consideration their reduced power consumption, we can easily see why LED lamps have become so popular lately.
Moreover, LED lamps may last up to 30 years, why classic halogen bulbs may need to be replaced every year. This is another important saving you can make by choosing your table lamp the smart way.
You may have to spend some time reading about the different types of table lamps and their features, but you'll have the chance to make an informed choice that would enable you to save money and to preserve the health of your eyes.
If you study a lot, investing in a good lamp is going to pay off sooner rather than later. You can't put strain on your eyes for 4-5 hours every day and hope they are going to serve you well for 50-60 years.
A quality desk lamp with a controlled beam of light may be better for older people, but not necessarily a must for younger ones. In addition, you should consider the type of work you have to do at your desk and the setting of your workspace.
all these are going to have a direct influence on the type of lighting you need. Some lamp manufacturers have gone as far as to develop special versions for the aging eye, featuring matte glass diffusers and reflectors that help reducing glare.
---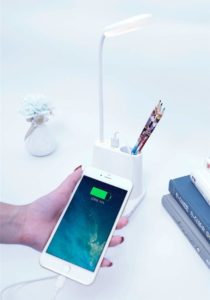 ---
The color temperature is another parameter you need to pay attention to when choosing the best light for studying.
The color temperature of most halogen lamps is around 3000K. LED lamps are available in 2700K, 3000K or even 4500K. At 4500K, the light is cool, so you should be certain you like it before purchasing such a lamp.
At the same time, every 300K increase in light temperature results in a 10% increase in the light output. Warm color light may be more soothing, but when it comes to sharpness and productivity, a cooler light could be a much better choice.
Once you've decided upon the right type of lamp, you can go ahead and pick your desired style, finish and color. In terms of aesthetics, the sky is the limit. You can choose a sleek metal lamp with a modern design.
---
---
LED lamps can have extremely sleek shapes, as LEDs are extremely small. Halogen lamps are bigger, but they can also look amazing. Besides, they may suit better classic interior designs, so you may want to opt for one of these heavy table lamps for your study room.
Some lamps feature a moveable arm, while having a classic look, so you can have the best of both worlds if so you wish. All styles are equally beautiful, so it's hard to say which one is better.
This is solely a matter of personal preferences, so you can choose whatever you like most.
As you can see, choosing the best light for studying isn't rocket science. If you learn about the several types of light fixtures, about the power consumption, and about the color temperatures, you should be able to choose the perfect solution for your desk.
Always keep in mind that you have to protect your eyes, because they age together with you. Don't ignore the need for good lighting, as this could cost you a lot in ophthalmology consultations and pricey glasses.
---
YOU MAY ALSO BE INTERESTED IN THESE:
Best Table Lamp For Living Room Best Desk Lamp For Studying Best Desk Lamp For Eyes
---