T5 LED tubes is the linear tube light that can efficiently replace traditionally used fluorescent tube light. These tubes can save lots of energy when used in shops and other commercial institutions.
LED tube lights can perform up to 50,000 hours along with consuming a fraction of the wattage of the power supply.
The Kelvin temperature of T5 LED tubes tunes ranges between 3000 Kelvin and 5000 Kelvin, depending upon the type of application they are used in.
At present, the plug-and-play version of T5 LED tubes is also available in stores. It made it easier to replace traditional fluorescent tubes with these tubes.
Most of these tubes are programmed t start instantly and are compatible with most of electronic applications.
In order to find the best T5 LED tubes some of these tubes are briefly reviewed hereunder for your consideration.
1. T5 Led Integrated Single Fixture by Barrina
---
---
This 4 feet long T5 LED tubes tube offers super bright white light with 2200lm and 6500 K. this tube light with 20W power consumption is the best to be used as under cabinet light, light for utility shop, and ceiling light.
This light includes an electrical cord and an on/off switch to operate it easily.
What did I like?
I like the LED T5 Integrated Single Fixture by Barrina for the super bright light it provides by consuming only 20W power and saves up to 65% electricity to produce 2200 lumens light.
Another thing I liked was its extendable design which allowed me to use its connector cord or connectors to connect up to 8 lights together.
It is easy to install by using its snap joints to hang it. You can start using it just by plugging it into the power plug on the wall and switching it on.
It is a perfect tube light for your storage area, garage, basement, workbench, general lighting in the office, and under the cabinet in the home.
You can be sure about the quality of this single-light fixture as it is backed by unlimited warranty for3 years along with the fast and easy replacement in case of any manufacturing defect.
What I do not like?
Though these T5 LED tubes provides super bright light still I am not satisfied with its mounting metal clips as they are just a waste of money. It should have a mounting tab on both of its ends to mount it easily.
Though it is nice looking and lightweight, but it cannot be used in an office or communication center as it creates noisy sounds.
Pros:
Super bright light
Compact design
Power Saver
Cons:
Unsatisfactory mounting clips
Noisy sounds
---
2. LED T5 Integrated Single Fixture by Hypergiant
---
---
This 4 feet long T5 LED tubes Single Integrated Fixture offers the best and bright light of superior quality at 6500 K and 2200lumens just by consuming 20 W power.
It is suitable for lighting a utility shop, ceiling LED light and under the cabinet.
What did I like?
This upgraded version of T5 LED tubes integrated fixture includes 4 tubes with 59 inch long connecting cords whereas 6 tubes with 20 inch long cords so that you can use them as per your requirement.
The square cover of these tunes provides a stronger and elegant look.
It can be extended by connecting seamlessly up to 6 tubes together to illuminate larger space at a time.
The plug and play version of these tubes includes snapping joints to hang them easily and operate just by plugging in the wall socket.
It can be used perfectly in various applications including storage area, garage, basement, workbench, under the cabinet, and in the office.
It is backed by an unlimited warranty for 3 years and for any problem it in its quality you can replace it quickly and easily.
What I do not like?
What I did not like about this T5 LED tube is its improper length. It is 46" long instead of 48" or 4 feet. Its mounting clips also broke while installing it. I had to bring additional clips for completing its installation.
You have to use sticks to the light while unwrapping them as the wrap has shrunk due to heat in the shipping containers which made it hard to unwrap it.
The power cord on one of the lights was bad. It should include coupling to connect together the 20" long cords. 20" is the insufficient length of cord as it needs a longer cable to connect them.
Pros:
Super bright light
Pack of 6 + 4 tubes
Extendable lighting system
Cons:
Improper size
Blow standard installation clips
---
3. LED T5 Linkable Integrated Single Fixture by Hyperikon
---
---
This pack of 4 4feet long LED tubes provides glowing daylight of 2200 lumens at 4000K by consuming 22W power.
It is the best lighting system for the basement, a utility shop, under the cabinet, and to be hanged from the ceiling.
What did I like?
Along with the daylight glowing light of this integrated Single Fixture, I liked the most is its power saving feature which instantly saves up to 60% bill of power consumption when replaced with other T5 LED tubes that consume up to 54W power.
It is an ideal lighting fixture for shops. The lifespan of these tubes is almost 21 years or 45,000 hours is used or 6 hours per day which means you need not replace your bulbs frequently.
The brightness of the light of this tune is 100 lm/watt, which is the best in its class. It can be used instantly due to its plug-and-play design.
You can turn on its built-in switch just by inserting its cord into the plug. Its quality is backed by an unlimited warranty for 5 years and can be replaced easily for any manufacturing defect.
What I do not like?
What I did not like about this T5 LED tube is its wrong advertisement to provide as bright light as that of T5 consuming 54W power. Its light is less bright than as claimed.
Though it saves power consumption due to consuming only 22W as compared to 54W but it also provides much less bright light than the later one.
Moreover, the hardware used in it is flimsy and cheap. The connecting cords are useless due to their shorter length.
Pros:
Daylight glowing light
Saves up to 60% power bills
Easy to install and use
Cons:
Insufficient light
The hardware of poor quality
Shorter connecting cords
---
YOU MAY ALSO BE INTERESTED IN THESE:
Best LED Desk Lamps Best Lamp For A Vanity Table Best Desk Lamp For Students
---
4. Under Cabinet Linkable LED T5 Light Bar by LED Concepts
---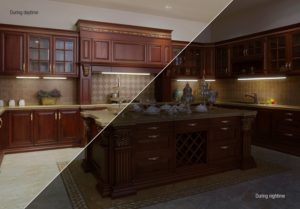 ---
LED Concept has introduced an ultra slim LED T5 light bar in cool touch design that is great for using as a lighting system under the cabinet and under the counter of your kitchen.
What did I like?
I liked the cool-touch design of this 12" long light bar as it can perfectly brighten the cabinet to do some important task or to change the mood of your room.
Its illumination is great to illuminate your counter space or the dark kitchen. Multiple light fixtures, up to 75, can be linked together to enlighten additional surface.
The cool-touch and ultra-slim design of this light fixture are unique in its class as it is different from all other traditional lights used for this purpose.
It is easy to install under the shelves or cabinet it requires 120V 60 Hz 4 W power to illuminate your cabinet just by operating its in-built on/off switch.
What I do not like?
The total length of both of these LED tubes is 2" more than the actual length expected from it, which makes it useless for my space under the cabinet.
They have provided only one power cord to connect both the tubes to use them at one spot only. But if I have to use them separately then I will have to buy an additional cord for it.
Pros:
Ultra slim cool-touch design
Consumes only 4W power
Cons:
Single cord to connect both the tubes
Total length is more than expected
---
5. T5 4ft 8lamp Fluorescent Ho Bulbs by Hydroplanet
---
---
This 4 feet long T5 Fluorescent Ho includes 8 LED lamp bulbs that can be used for indoor horticulture gardening.
What did I like?
The plug and play design of this fluorescent Ho with 8 6500K grow bulbs provides the blast of light instantly in a hassle-free manner. It requires 4A to power on 120-220V to operate. It is ETL listed. It includes 15' long power cord.
It includes a hanger and a daisy-chained outlet. Its aluminum reflectors reflect 95% of its light. Its quality is backed by a warranty for 2 years, in case of any problem you can contact with your customer ID with the customer service of the company.
What I do not like?
The side of the reflector was dented which made it hard to rest the bulbs. The total length of the unit was a bit tight to fit 4 feet of T5 bulbs. On the whole, fitting was not very good. Its locking mechanism is also rough.
Pros:
Plug and play design for easy operation
Needs only 4A power on 120-220V to operate
2 years warranty
Cons:
Quality below expectations
Improper packaging
Dented reflector
---
Conclusion
Though every T5 LED tube reviewed in this write-up has some cons but no product can be assessed on the basis of the experiences of some of its users.
On the whole, it can be said that T5 LED tubes are worthwhile to use at least once as they not only provide bright light but also help in saving lots of your electricity bills.
---
YOU MAY ALSO BE INTERESTED IN THESE:
Best Desk Lamps For College Dorms Best Desk Lamp For Studying Best Desk Lamps For Reading
---