Are you a toddler mom? I can hear you shouting "I'm tired of all these packings, preparing and organizing my baby's stuff for just one short vacay." Being a toddler mom itself is quite exhausting.
You must begin to prepare many things even after you get to know that you are pregnant. It is not the same as your old backpacking journey or travel where you stuff in some clothes and get on the flight.
With toddlers alongside, even a short trip can give you hectic tasks from preparing essentials for your diaper bag and carrying it all around. Carrying a diaper bag is vital if you have a toddler with you since we need to ensure that their needs are satisfied from time to time.
Generally, extra diapers, baby wipes, pair of clothes, toys, snacks, milk powder, and a blanket are the must-have items in your diaper bags. However, moms often face difficulties in choosing the right toddler baby bag that serves their needs and provides comfort.
Every mom's wish is to the entire baby's essentials they have into the diaper bag. Well, we don't have a bag big enough for that now. But I do have a list of some best toddler diaper bags that I have personally used for my children. These toddler diaper bags come with various cool features to offer comfort and convenience to all toddler moms out there.
1. Fisher-Price Backpack Diaper Bag Backpack
---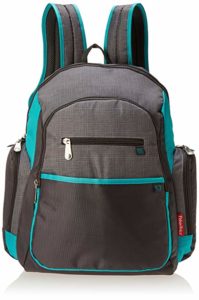 ---
The Fisher-Price Backpack is my all-time favorite until today. At such an affordable price with the most cool features, this backpack is a show stopper.
First, it comes with a fast finding label system, where you will have a label for each compartment like 'pacifier,' 'toys,' 'diapers' which makes the organization cleaner and convenient. It also comes with larger rooms with a hands-free accessible pocket designed explicitly by parents to suit the needs of moms and dads.
Moreover, the diaper bag is equipped with four feet of plastic on the bottom to prevent bacterial contact while you keep your bag on the ground or anywhere else. It leads to high durability and a longer life span.
There is a waterproof changing pad, wipes dispenser that is easy to access as well as adjustable shoulder straps, and insulated bottle holders to provide more comfort and convenience. It comes in a stunning grey, a teal combination that is appropriate for both mom and dad to carry around.
Pros:
High-quality double zipper for large compartments
Waterproof Changing pad、Unisex
Wipe dispenser case、Insulated pocket holder
Fast-finder label system for easy organization and access to items
Adjustable shoulder strap
Extensive pockets for that provide more space
Cons:
---
2. Skip Hop Diaper Bag Backpack
---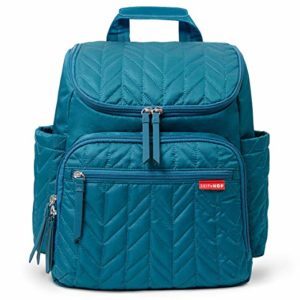 ---
While I am pregnant with my second child John, I wanted to try out new things including a new diaper bag. And I purchased the Skip Hop Diaper Bag Backpack online. Since the day I have started using it until today, the Skip Hop diaper bag has never let me down even once.
The backpack design makes it so much easier and convenient to use compared to the handbag or cross bag styled diaper bags. It is a super spacious, water resistant, and ravishing designer backpack that comes in teal color with a gray interior which will be perfect for both my husband and me to carry.
Apart from that, the Skip Hop diaper bag has a spacious room for more accessible storage of larger items that can hold both your baby's essentials plus yours. It has two packaging cubes where one is an insulated bottle cube to keep your liquids, and the other is a multipurpose mesh pocket cube which is handy for storing snacks or clothes.
Its cushioned adjustable shoulder strap with machine-washable changing pads made Skip Hop teal diaper bag to provide unbeatable convenience and comfort. It is super lightweight and feels like air on my shoulder.
The stroller straps make Skip Hop the most convenient hands-free diaper bag, and I am still falling in love with the incredible design.
With Skip Hop, I don't face any problem during the use. So, I would highly recommend it as a great gift to all the Mama-to-be out there.
Pros:
Spacious Interior、Adjustable strap
Stroller straps for a hands-free experience
Insulated mesh cubes、High durability
Multipurpose mesh cube、Lightweight
Impressive design、Water resistant material
Machine washable changing pads
Changing pad pocket as laptop/ tablet holders
Cons:
---
3. JuJuBe Be Multi-Functional Structured Backpack Diaper Bag
---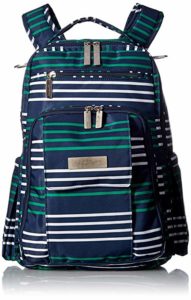 ---
JuJuBe backpack enables a versatile use ranging from diaper bag to travel pack, to school and work bag. What I love about this JuJuBe diaper bag is protected with Agrion natural treatment which prevents the growth of bacteria, mold or any other infectious germ.
It ensures the safety and hygiene of my children and me all the time. The outer layer of the bag is covered with Teflon fabric protector which makes your bag resistant to dirt.
It comes with a comfortable and smooth double zipper as well as a curved shoulder strap with a piece of textured fabric underneath to avoid the bag from slipping off your shoulder.
JuJuBe diaper bag also has insulated pockets at both sides to store liquids. Since the diaper wipe compartment is right on the front zipper, it is made the dispensing much quicker. I end up stuffing both my children's essentials and some of my items and guess what there is still plenty of space in the bag.
Moreover, it has a 'mommy' zippered pocket to where I will keep my personal items, smartphone, and some small delicate item. Added to all that, the JuJuBe diaper backpack designed with green and white stripes on a teal background which makes it look amazing.
But there is one thing I was quite disappointed with the JuJuBe diaper bag backpack is that the main compartments keep flopping open which makes it challenging to be hands-free and I was unable to grab the items from the section while on the go.
Pros:
Huge interior space、Lightweight
Water bottle insulator pocket
Shoulder straps with textured fabric
Durable stroller straps
Easy to access front compartment for quicker dispensing of wet wipes
Agrion natural treatment to prevent germs
Mommy pocket' to store personal and delicate items
Cons:
The main compartment that flops open frequently
---
4. Fashion Mummy Teal Green Diaper Bag Backpack
---
---
It is a very appealing diaper bag with a fascinating design. I got mine in a teal green color, but there are few other choices for you to choose as well. Believe me, they fell in love with the bag at the very first moment they saw it.
In my opinion, these diaper backpacks are the perfect size for moms, and they are lightweight no matter how much you stuff in, it doesn't feel or look bulky. There is a front pocket that acts as a mesh pocket for easier access to items.
There is another large zipper compartment with plenty of space and easy to organize sections inside. It makes it so easy for me to stuff in my kids' thick blankets, toys, and pillows so easily. It comes with insulated pocket holders as well as a waterproof interior and exterior.
One major thing that's quite annoying with the diaper bag is the zipper snap off too quickly in about one week time. Hence, i wish they improve the quality of the zipper and manufacture better diaper bags in the future. Apart from that, I felt it is much more comfortable to be used as a diaper bag since it lessens the burden on my shoulder.
Pros:
 Lightweight、Adjustable Strap
 Perfect size for mommies
 Appealing and unisex-friendly design
 Larger space with zipper
 Equipped with insulated pocket holders
Cons:
 A low-quality zipper that broke often
---
5. JuJuBe B.F.F Multi-Functional Convertible Diaper Backpack
---
---
Though I have come across many diaper bags in the market, again JuJuBe got something impressive that is very attractive. The JuJuBe BFF multipurpose backpack is with top notch quality waterproof fabric that is treated with natural treatment of Agrion to resist bacterial contact as well as Teflon covered exterior to repel stains and dirt.
I find the lunch box to have quite enough room to store my kids' stuff and some of mine. It is magnetic and zipper closure to provide a secured seal. It also comes with quick access mesh pockets to keep your cellphones together with a microfiber pocket to store your glasses without worrying about potential scratches.
On the downside, the JuJuBe diaper backpack is more on the higher end of price point thus makes it less affordable.
Pros:
Larger space for more storage of items
Agrion treated to prevent germs attack
Teflon covered exterior for dirt free appearance
Attractive design、Magnetic closure
Microfibre pocket made to keep glasses safe
Cons:
---
Hence, here is my top five toddler teal baby bag list which you can refer to in case if you are planning to buy one. It can be an excellent gift for your pregnant wife, daughter or friend and all these diaper bag backpacks are available on Amazon at affordable prices.
Always remember to put comfort before anything while buying a toddler diaper bag since at the end of the day we want all our beautiful moms to have a hassle-free, comfortable journey with their toddlers.
---
YOU MAY ALSO BE INTERESTED IN THESE:
Expensive Diaper Bags       Diaper Bag For Toddler And Baby       Best Girl Diaper bags
---