Having a baby these days has changed from what it was like for your mother, or even an older sister from just a few years ago. With everyone having a career that they intend to pursue after the birth, there is a limited amount of time to get things sorted and spend the most time possible enjoying your baby.You'll find lots of lists on the internet full of newborn baby essentials, but the number one tool to make life easier is going to be your best girl diaper bag. Some real thought needs to go into this purchase to get all of the necessary pouches and other options that are now available. Here I intend to give you a complete list of all the different things that make the best girl diaper bags.
Resist Getting One That Hold Everything Possible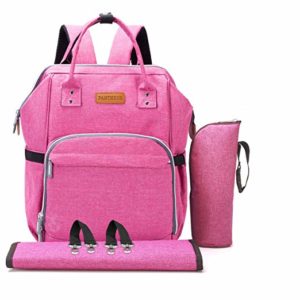 First decide the most urgent situations where you're going to be needing your diaper bag. Are you going to be taking your little princess to daycare on a daily basis? Or, are you going to be taking her shopping at the grocery store, or to work with you, staying home with her, walking in the park with a stroller, or any other places? These considerations will dictate what you're needing to accomplish with the best gril diaper bag.
If daycare is in your daily routine, then you'll have to pack certain items in the proper quantities to cover the day. Things like bottles of formula, diapers, wipes, toys, burp rags, and everything else. Most daycare centers require their customers to supply everything that's needed each day. This will require a larger bag that you can really pack.
On the other hand, if you use a friend or relative to care for your child, you may be able to buy many of the daily essentials in bulk and leave them there so you don't have to carry them each and every day.This is the preferred way to go since you'll always have to have more than you need and you'll be lugging them back and forth each day along with your baby. Anything you can do to streamline you workload makes a lot of difference on how tired you're going to be at the end of the day.
Remember that this best gril diaper bag is going to be part of your daily life for about a year or so. Everywhere you go, everything you do, anytime you have your baby with you, you'll have to have the bare essentials as well.
Pick A Price But Don't Skimp On Quality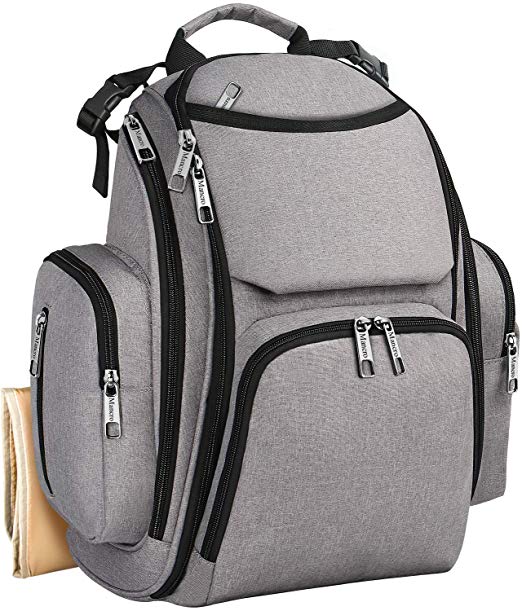 Sure, you can find diaper bags as cheap as $25 in some stores. You'll have to ask yourself how long you think it's going to last, and will you be able to keep it clean and nice looking for as long as you need it? The best girl diaper bags will be made of very high quality materials that can be cleaned and sanitized easily. There are going to be messes, dirty messes involving food spills and dirty diapers. Being able to clean everything up easily is important.
The outside of the bag needs to be rugged. You're going to be throwing this bag into the back of your car while you have your hands full with your baby. It will have to take a certain amount of abuse, no way around it.You'll also want the option of being able to clean it often, nobody wants to be seen with a dirty bag out in public. Once it gets uncleanable, or ragged looking, you'll be embarrassed to use it. For this reason, make sure that it's very easy to clean, and read the online reviews to verify this.
Style Is Important You'll Have To Admit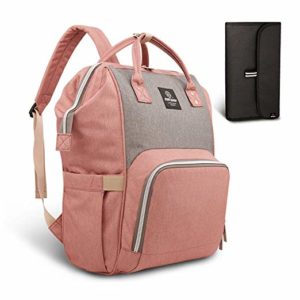 When you first start looking you'll be telling yourself that you want utilitarian, rugged, holds everything, and you don't care what it looks like. In reality, you'll end up being sorry if you don't get a bag that you're proud to carry around. People will notice your bag, whether they say so or not and you'll be conscious of how it looks too.
Get a style that fits the way you dress normally, take a look at your shoes and purse for a clue. If those two accessories are high-end, you'll want a bag that is in the same ballpark. If, on the other hand, you primarily take your baby to the daycare, then it won't be as important to you. But, don't sacrifice a durable material just to get a chic look, it still must be easy to clean, and rugged to last.
The Closures, These Are A Lifesaver, or Not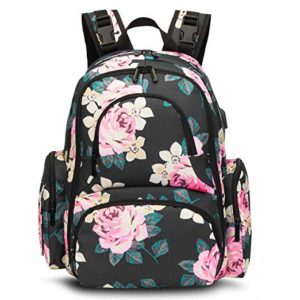 One of the things you'll soon realize is that you're going to have to have access to things in the bag while you're driving down the road, sitting on a bus, or at a nice restaurant. You'll also need to have complete confidence that nothing is falling out of the baby gril diaper bag, or that your baby can't get in the bag while you're not looking.
Zippers are great as long as they are strong, well-made, and have large tabs for you to pull. Velcro is more convenient though and maybe the best way to close up most compartments of your bag.
It also helps if your bag has interior closures, straps, and other hold-down ties that can keep your items organized but still offer quick access. That way you won't have to dig to find things and even after a rough day, your bag will still be orderly inside.
Navigating The Online Retailers
This is where a little bit of patience can really save you time and money. In the large online retailers, they have nearly everything you need to know right at your fingertips, you just need to know what to look for and take the time to do it. You'll find that people ask great questions that you never would have thought about, yet are curious to know.
One great question that is often asked is whether a particular diaper bag can function as a backpack. Some people need this feature, and you can find out by reading the Q and A section where you get real answers from real customers or sometimes the actual seller.
Another consideration that a person might not think to ask is whether a bag stands on its own or if it immediately falls over. This could be really important if you have bottles that are going to leak.You can find out if the straps are long enough to go over your shoulder if the material is cotton, nylon, or polyester and if the leatherette straps tend to peel and chip. A very great resource for finding the best girl diaper bags.
The Customer Reviews
These are different than the Q and A sections but not to be overlooked. If you find what you think the best girl diaper bags are and the reviews are bad, you'll want to take a close look at why. Sometimes it's the quality, other times the design, but people will come right out and tell you what they do and don't like about a product.
Make sure you're reading verified purchaser reviews and read some of the 5 star reviews and most of the 1 and 2 star reviews to get a good idea of the features and problems. It's very likely that the low stars are problems with delivery, or packaging, and may not have anything to do with the actual product at all.
What People Bought After Reading This
Or another subtitle is "What Customers Viewed After Reading This." These are incredibly helpful in finding similar priced and styled bags that may suit your needs.
Other customers have done some of the work searching for you and the online retailer has assembled the products right there in a nice row with prices, quick descriptions, and a star rating. You can right click, open a new window on one and make easy comparisons between the two.
This is a great feature that enables you to find the right size, style and price, and then find the best girls diaper bag that has the most satisfied customers and star rating. If you want to go a little higher in price there will almost always be some a little lower and a little higher so you can see the differences and click on one to read more information.
Backpack Diaper Bag For Baby by ToteNvy
---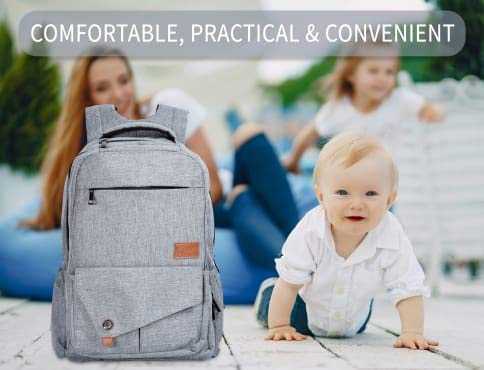 ---
Just you give you an idea of a 5 star rated bag that has a lot of great features I've picked a backpack style bag. Of course, the advantage of the backpack style is that the bag is securely on your back and both hands are freed up to hold your baby.This is an important feature if you have to navigate public transportation like buses, light rail, or even taxis. You'll need to have no worries about the bag while you board a bus and reach for the handles to pull yourself up the stairs and find a seat.
This bag features 17 pockets, and three of them are insulated to keep bottles warm or cold. The material is 100% premium and waterproof to keep everything dry in the rain and resist messes from food and bottle spills. It includes a waterproof changing pad that fits nicely inside.
There are also stroller straps that make the bag easy to hang from the bars of a stroller. This is a great feature if you take long walks in the neighborhood or frequently go to the park for exercise.
The reviews for this bag are 100% 5 stars and everyone raves about the backpack style over the regular strap style. Several people mention the arm, back and shoulder pain from carrying the old style bags as well. There is even a wipe dispenser conveniently located on the outside pocket for easy access anytime.
Other customers mention that there are plenty of different sized pockets inside that can hold cellphones, pens, note pads, in addition to the insulated pockets for formula and food. Many women have left their purses behind and use only this bag for everything, including baby stuff.
Diaper Tote Bag For Girls by Runka
---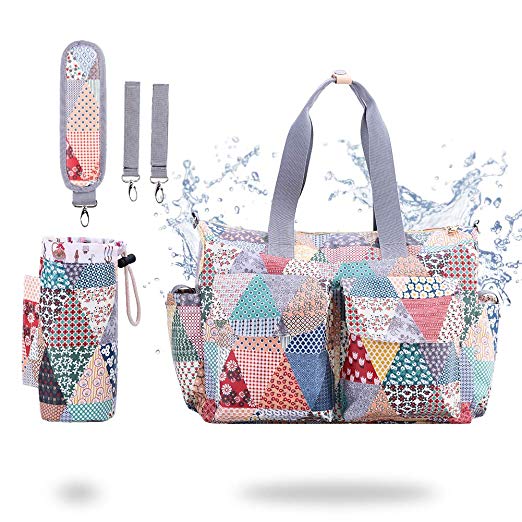 ---
This diaper tote bag is more of the tote style bag rather than the backpack style. It features 16 pockets in total with many different sizes. Some are specifically made to hold dirty things, like diapers, and keep them from contaminating everything else. Those pockets could also be used for wet shoes and burp rags too.
This is one of the larger bags on the market and would be good for the baby that goes to regular daycare or on long trips with the family. It has plenty of storage for everything, including mom's phone, wallet, and makeup as well.
The bag is made from a cotton polyester blend that is both durable and very water resistant at the same time. The material is heat resistant and holds its shape to maintain an upright position when set on the ground or table. It can be wiped clean most of the time with only a damp rag and look as good as ever. It also comes with a portable bottle holder that is insulated and made to hold several different sized bottles.
All 5 Star Reviews
Most of the customers are very happy with the size in order to take everything to the local daycare with the baby. It has enough separate pockets to keep everything in its place and neatly organized. Plus, since the fabric is very water resistant, it makes clean up a snap, both inside and out.
As mentioned before, some bags are easier to take on a commuter bus ride, while others are going to be better suited for riding in a car's backseat on the way to daycare. The backpack style tended to have lots of rave reviews because of the ease of carrying it, and lack of shoulder strain.
The larger tote style bags were loved for their giant size and ability to carry everything possibly needed for a long day. Each style has its place in our busy world, but by reading the reviews and assessing your own situation you'll have a better idea of which style, material, price range and colors you need for your baby.YOU MAY ALSO BE INTERESTED IN THESE:
Grey Nappy Bag        Diaper Bag For Toddler And Baby        Best Baby Diaper Bag