1. LE LED Light/3100012-DW-US
---
---
I have come around numerous LED light of different sizes and shapes, but I think this one is so far the best in terms of design. Its shape is catchy making it looks a mini streetlight.
Am also quite impressed by the base, it can hardly tip and fall off. Personally, I love using my laptop at night and having a lamp that can emit soft light that is flicker free is truly lifesaving.
What makes this lamp even more interesting is the fact that it has not one but seven dimming levels. It's like you literally have control of the light you want. You get to pick the brightness you want, and next time you power up the lamp, it will remember your last selection and give you exactly that.
It completely saves you too much time that you would have otherwise lost trying to reset it again. The control panel is touch sensitive, impressive!
All you need is a touch, and it will respond to the command, unlike other lamps where you will have to press the rigid buttons for the changes to occur. Generally, the lamp is good for a starter. You will enjoy everything it has to offer.
There are numerous things that I don't like about the lamp. You find that it only comes in two colors, black and white. This means that I have very limited options to pick from.
I think they would have included additional colors to make it much more interesting. I also noticed that the LED bulb replacement is very expensive.
Once you break your LED bulb or it burns out, it is easier to do away with the lamp or get a new lamp than have a replacement of the bulb. I really wonder if that is the bright move. Why isn't there a cheaper solution to fix this?
Pros:
Has seven adjustable options
It comes with a touch panel that is very responsive
The base is wide enough to prevent accidental tip-offs
The light is flicker free
The stand and lamp are adjustable
Cons:
Comes only in two colors
Replacing the bulb is very expensive
The power cord is a bit short
---
2. LE Metal Dimmable LED Desk Lamp
---

---
For those looking for an LED lamp that can do more than just light up your study table then this is exactly what you want. I was very excited when I found out that the lamp comes with a USB port.
This enables me to charge my USB devices while studying or using the computer. Any time I want to study and my iPhone or iPad has low power, I just need the USB cable, and the lamp will take care of the charging, this idea is impressive.
I also noticed that the lamp comes with a touch panel, this is something that not every lamp possess. With a touch panel, I am sure that I will have a very easy time adjusting it to my preferred settings.
When you unpack it, you will notice that it has 3 different adjustable joints. This makes the lamp adjust to almost any angle you want. You don't have to manually twist the whole lamp to get the perfect angle, just make use of the three joints.
The idea that I get to choose a different color temperature is totally incredible. The options available are warm light, daylight white and neutral. This means I don't have an excuse to get bored with only one light selection.
The lamp is also programmed to remember my settings, so that next time I power it on I doesn't have to reset again.
Despite having all those incredible functionalities and great features. The lamp has some features that I find displeasing.
You find that the lamp can only be adjusted to three color modes, I am not allowed to pick from an array of color modes and decide which best suits my needs.
There is only the studying, relaxing and working mode. I feel like I have limited options and I am not completely in control of the lamp. You also can't replace the LED light once it ages out or gets destroyed. I'd find it comforting if I had that option.
Pros:
Great finishing、Incredible base
Has a USB cable for charging、The light is flicker free
You get to pick your favorite temperature light
Completely adjustable、It remembers your setting
Cons:
You can't replace the LED bulb
Has limited light selection modes
---
3. LE LED Light/3100013-US
---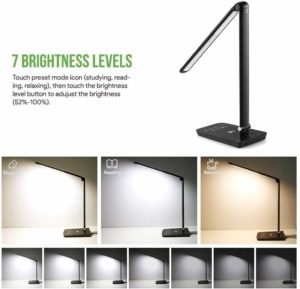 ---
The first feature I always check before buying a lamp is whether it comes with a USB port where I can charge my devices or not. I always find it very convenient and interesting.
Luckily, this lamp has a USB port that gives 5volts output and so it's a plus for me. For those with eye problems that don't allow you to use any other light when reading except the natural light, you need to give this lamp a try.
It emits soft light that is non-glare and completely flicker free. Am sure you will find it as good as the natural light. It comes with a touchpad control that gives you seven different lighting modes including the reading, working and relaxing modes.
The design is also very interesting and beautiful. It only has two joints that can give you almost any angle you are looking for. The base is wide enough giving it the support required to prevent accidental tip-offs.
It is always true that every great thing has a disappointment somewhere. The lamp comes in only two colors which is black and white. I would have preferred more colors to give us numerous options.
They should also include a replacement feature that can allow you to replace the LED bulb at a cheaper cost. This would have given the lamp an additional lifetime.
Pros:
Comes in great brushed finishes、Produces eye care light
Has an incredibly wide base、It is adjustable in most directions
You can charge your USB devices
Programmed to remember your settings
The light sections are great
Cons:
Comes in only two colors
The LED bulb cannot be replaced
---
YOU MAY ALSO BE INTERESTED IN THESE:
Globe Post Light            Warm Light LED Bulbs            Best Wifi Light Bulb
---