Being a toddler mom itself is quite exhausting. You must begin to concern about many things now when you travel. It is not the same as your old backpacking journey where you stuff in some clothes and get on the flight. With toddlers alongside, even a short trip can give you hectic tasks from preparing essentials for your diaper bag for toddler and baby and carrying it all around. Carrying a toddler diaper bag is vital if you have a toddler with you since we need to ensure that their needs are satisfied from time to time.
Generally, extra diapers, baby wipes, pair of clothes, toys, snacks, milk powder, and a blanket are the must-have items in your diaper bags. However, moms often face difficulties in choosing the right diaper bag for toddler and baby that serves their needs and provides comfort. Every mom's wish is to the entire baby's essentials they have into the diaper bag.
Well, we don't have a bag big enough for that now. But I do have a list of some best toddler diaper bags that I have personally used for my children. These toddler diaper bags come with various cool features to offer comfort and convenience to all toddler moms out there.
1. CISCO & RAFFI Diaper Bag Backpack
---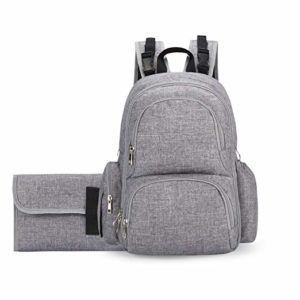 ---
I have used the Cisco & Raffi toddler diaper backpack for my elder child Ricky, and it immediately becomes one of my favorites until today. Some cool features about this backpack are that it comes with 17 large and small capacity pockets for multiple uses with two mesh pockets on the shoulder strap where I will typically keep my phone and pacifier for easier access.
It also comes with insulated bottle holders on both sides. I will usually use them to bring Ricky's premade bottle of milk since the insulated pocket holder keeps it warm for up to 6 hours. Few pockets among the 17 as well as the two largest compartments have a high-quality double zipper seal to keep your items safe.
Moreover, the toddler diaper bag is made of waterproof material, and it even comes with a separate water-resistant compartment to store wet clothes and spillable liquids. They are easy to clean with large changing pads. It was so convenient since Ricky will always end up spraying the glucose water all over him.
However, one thing that I don't like about this diaper bag is the variation of color. It only comes in a faded gray color when I wanted it to be in black. But if you weigh the functions it has to offer; color doesn't even matter.
Pros:
17 small and large capacity pockets for more natural organization
High-quality double zipper for large compartments
Waterproof material
Insulated pocket holder
Water-resistant pocket
Mesh pocket on shoulder strap for easier access to frequently needed items
Cons:
No color variations (Only one color to choose which is Gray)
---
2. SOULSTEN Diaper Bag
---
---
For a change, I tried searching for some new toddler changing bags online while I am pregnant with my second child Normi. And I purchased the SOULSTEN diaper bag online. Since the day I have started using it until today, the SOULSTEN diaper bag has never let me down even once.
It comes in a similar backpack style like the previous one which makes it so much easier and convenient to use compared to the handbag or cross bag styled diaper bags. It is a super spacious, water resistant, and ravishing designer backpack that comes in neutral colors which will be perfect for both my husband and me to carry.
Apart from that, the SOULSTEN diaper bag has a spacious interior for more accessible storage of larger items like thick blankets, pillows and breast pumps. It has a cellphone pocket with anti-theft design alongside with external side pockets to store umbrella, water bottle and support quick wipes dispensing.
A zippered internal pocket to keep small items together with an isolated waterproof compartment for wet material storage and adjustable shoulder straps made SOULSTEN diaper bag to provide an unbeatable convenience and comfort. It is super lightweight and feels like air on my shoulder.
It also has three insulated bottle holder for keeping liquids warm and ready for feeding. One cool feature that I love about SOULSTEN backpack is that it has a bottom zipper which allows direct access to things stuffed at the bottom of the bag without going through digging process which is so comfortable and mess-free.
With SOULSTEN, I don't face any problem during the use. So, I would highly recommend it as a great gift to all the Mama-to-be out there.
Pros:
Spacious Interior、High durability
Anti-theft cellphone holder、Adjustable strap
Insulated pocket holders、Lightweight
Bottom Zipper for easy access to things at the bottom
Waterproof compartment、Water resistant material
Cons:
---
YOU MAY ALSO BE INTERESTED IN THESE:
Best Diaper Bags Boys Best Diaper Bag Traveling Best Affordable Diaper Bags
---
3. HSD Diaper Bag Backpack
---
---
As I have mentioned above, my craving for a black toddler bag for mom has never ended until I found and purchase HSD. It is a super spacious diaper bag that allows me to carry items for both Ricky and Normi in one. It enables a versatile use ranging from diaper bag to travel backpack, to school and work bag.
What I love about this HSD diaper bag backpack is it comes with a comfortable and smooth double zipper as well as stroller straps that clasps on strollers so easily. HSD diaper bag also has insulated pockets at both sides to store liquids. Since the diaper wipe compartment is right on the front zipper, it is made the dispensing much quicker.
There enough room with plenty of pockets with zippers and some with Velcro fasteners. I end up stuffing both my children's essentials and some of my items and guess what there is still plenty of space in the bag. Moreover, it has many hooks where I will usually hang my keys, hand lotion and sanitizer. Also, the HSD diaper bag is equipped with feet at the bottom which enables it to stand upright.
But there is one thing I was quite disappointed with HSD diaper bag. The MOLLE (Modular Light Weight Load-carrying Equipment) on the back and sides of the backpack had some defects. I hope I got the one from a bad batch.
Pros:
Huge interior space、Lightweight
Water bottle insulator pocket
Waterproof compartment
Durable stroller straps
Easy to access front compartment for quicker dispensing of wet wipes
Dirt is less visible, black color
Cons:
---
4. Skip Hop Toddler Diaper Bag Backpack
---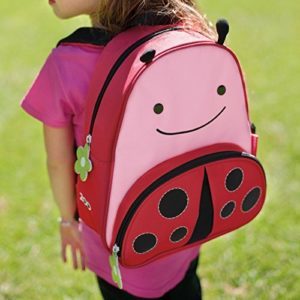 ---
Nothing can fascinate children like colors and cartoons do. So I bought the Skip Hop the Skip Hop diaper bag for toddler and baby for both Rickey and Normi since it comes in various colors and animal design where my kids find appealing. I bought them for $15 each as a gift for my children.
Believe, they fell in love with the diaper bag for toddler and baby at the very first moment they saw it. Normi took it to the next level by using the backpack as her bedtime teddy bear. In my opinion, Skip Hop backpacks are the perfect size for the kids. I find Normi and Rickey put on the bag so easily, and it doesn't feel or look bulky. There is a front pocket which acts as a mesh pocket for easier access to items.
There are another large zipper compartments with no little pockets on the inside. It makes it so easy for my kids to stuff in their thick blankets, toys, and pillows so easily. Another cute thing is the backpack comes with a name tag where you can write your kids names on their bags.
One thing I wish to have in Skip Hop Backpack is an insulated pocket holder to keep liquids hot or warm during travel. Since now I need to carry a separate backpack to serve me that purpose. Apart from that, my kids enjoy using Skip Hop Backpacks, and I felt it is much more comfortable to be used as a diaper bag for toddler and baby that my kids could carry around on their own. It lessens the burden on my shoulder.
Pros:
Lightweight、Adjustable Strap
Perfect size for toddlers、Attached Name Tag
Appealing and toddler-friendly design
Larger space with zipper
Cons:
No insulated Pocket Holder to keep liquids
---
5. Skip Hop Zoo Toddler Lunch Box
---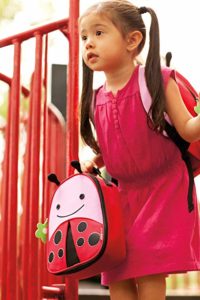 ---
I find it often difficult to carry food items or snacks in the diaper bag for toddler and baby since at times I will store the wet clothes or dirty things into the diaper bag and do not want the food items to get spoiled being in there. Hence, that's when I have decided to buy a separate lunch box to carry food items and snacks for my kids during outing and travel.
I have come across many lunch boxes in the market, but again Skip Hop got something impressive that kids find very attractive. Similar to the backpack, they have launched insulated lunch boxes with zoo animal designs on the cover. It keeps the food cold and fresh throughout the day.
I find the lunch box to have quite enough room to store big portions of food like sandwiches and fruits without needing to cut them. With its easy-to-clean feature, Skip Hop lunch boxes are my go-to solution to carry snacks for my kids alongside with the diaper bag. It is also apt to be used as a school lunchbox for your toddlers. They are going to love it.
In terms of downside, the lunchboxes are made of polyester. I would be more happy and satisfied if they were made of some metal such as stainless steel or aluminum.
Pros:
Larger space for more storage of food
Attractive design
Insulated to keep food cold and fresh
Cons:
---
Hence, here is my top five diaper bag for toddler and baby list which you can refer to in case if you are planning to buy one. It can be an excellent gift for your pregnant wife, daughter or friend and all these diaper bag backpacks are easily available on Amazon at affordable prices.
Always remember to put comfort before anything while buying a diaper bag for toddler and baby since at the end of the day we want all our beautiful moms to have a hassle-free, comfortable journey with their toddlers.
---
YOU MAY ALSO BE INTERESTED IN THESE:
Best Stylish Diaper Bags Best Backpack Diaper Bags Pink Diaper Backpack
---