Every time you and your baby go out for a walk in the park, or a visit to the pediatrician, or going to grandmas, it is always a guarantee that you will have to bring a pink diaper bag. A must have for all moms and dads, the diaper bag is where the extra diapers, extra clothes, milk, towels, bottles and other baby things are kept.
Using the traditional sling bag type diaper bag is usually a burden for your shoulders, which is why most parents nowadays prefer to use backpacks. With the sudden boom of colorful backpacks, the color pink is still the most eye-catching.
We now take a look at 5 of the best pink Diaper Backpacks.
1. Pipi Bear Diaper Bag Travel Backpack
---
---
Rated 5 stars in Amazon with more than 500 reviews, buying this pink baby bag will surely be a good choice for any parent. This $30.00 backpack will surely lessen your struggles and shoulder pains when going out with your baby.
What I Like:
The look of the backpack may be simple but don't let it fool you. The materials for this bag is made of high-quality water resistant oxford cloth and nylon fabric.
This pink baby bag is filled with lots of pockets so you can organize every essential baby things and keep them in perfect order. This backpack has a total of 13 pockets with 2 insulated bottle bags to keep your baby's milk warm for a couple of hours. It also has 2 side pockets and 1 wet dry separation pocket.
What I don't like:
Putting in items can become hard at times. Yes, I can fit in 3 bottles and extra diapers on the bag but it can become so tightly packed that taking out things for my baby can be an effort.
Pros:
Water Proof: This pink diaper backpack is waterproof so you don't have to worry about your baby's clothes or diapers getting wet.
Anti-Theft Pockets: You can keep your cellphones and electronics in the backpack without having to worry about it getting nicked by thieves.
Cons:
Size: The bag can sometimes be too small for a baby backpack.
Weight: The bag is small but has a large capacity, this means that the items inside can be compact and it can become heavy over time.
---
2. HaloVa Diaper Bag
---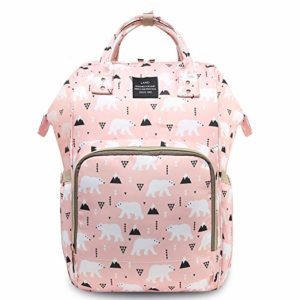 ---
Another top rated diaper bag, the HaloVa Pink Diaper Backpack is considered to be one of the best out there. With a price tag of $35.99, having to use one of these for your baby's day out is surely a good exchange for your money.
What I Like
Great Material: The materials used for this bag are so high quality. The waterproof oxford fabric is smooth to touch and is very easy to wipe and clean. So spilling milk, or getting it splashed with water is never a problem.
The polar bear design is what really makes this bag so attractive. The simple bear pattern transforms this bag into a fashionable item. It does not even look like a baby bag when you use it.
What I don't Like
The simplicity of the design sometimes makes it look cheap and sometimes looks like it was made with polyester canvass.
The shoulder straps sometimes do not sit comfortably on the shoulders and it can hurt when wearing it for a prolonged period of time.
Pros:
Large Capacity: This bag is able to carry tons of baby stuff. Milk, diapers, Bottles, Clothes, and many more. Plus it is very easy to organize the contents of this bag.
Pockets: This bag has lots of pockets that can be used to place several different items.
Cons:
The backpack strap design was not well thought of. The straps were too short to be adjusted and it will end up hurting your shoulders when it is filled and the bag becomes heavy.
---
YOU MAY ALSO BE INTERESTED IN THESE:
Best Insulated Diaper Bag Best Compact Diaper Bags Best Small Diaper Bags
---
3. Diaper Bag Backpack for Mom
---
---
This multi-function backpack is one of the most practical backpacks that any mom can get. For $35.99, you can have this bag loaded with pockets to contain every baby necessity during your day out with your baby.
What I like about it
It has lots of multifunctional pockets to carry everything that your baby needs. With secure dual zip closures, a mesh pocket for dirty clothes, and side zippers for easy access of immediate need items.
What I don't like about it
The zippers are not made of good quality material and might end up destroyed in a short amount of time. Plus the side pockets don't really fit a lot of items so you can only place tiny items in it. The item also looks cheap and very underwhelming.
Pros:
It has a lot of compartments making it easy for every mom to organize her baby's things.
The color of the bag is really pink, and it becomes very attractive to look at.
Cons:
The bag is not as spacious as advertised: The main compartment can only fit the milk, the bottles, the hot water, and the diapers. Maybe that is why it has lots of pockets to compensate the lack of space on the inside of the bag.
Plastic Zippers: The plastic zippers can be easily damaged over a period of time and it looks like the material is not made of high quality material.
---
4. Kiddycare Diaper Bag
---
---
This pink diaper backpack can be bought on Amazon for $34.99 and is top-rated at 4.5 stars with lots of positive ratings and reviews. Waterproof and durable, the suppliers are willing to give any customer a lifetime warranty of this backpack.
What I like about it:
The backpack looks small but it's just how it looks. It can pack so much inside that it is so convenient to use. Plus the quality of the bag makes it durable even if it is full to the brim, the straps won't easily snap.
What I don't like about it:
The backpack is not as waterproof as the other bags of its kind. It may be just the material that they used to make the bag.
Pros:
Durable: The bag is durable for everyday use for a long time.
Spacious: This pink diaper backpack only looks small on the outside but it is very spacious on the inside.
It can hold lots and lots of diapers and bottles.
Cons:
Straps are too short.
This bag was meant to be used for small people in my opinion.
---
5. AOTIAN Mini Nylon Women Backpack
---
---
Who said hiking backpacks can't be used as diaper backpacks? AOTIAN can prove them all wrong with this lovely pink diaper backpack. Plus its cheap too, it will only cost you $20.00.
What I like about it
The material is made from nylon and lined with strong and sturdy polyester. Hiking quality bag but meant to be used for carrying baby diapers. The normal odor of nylon and polyester can't be smelled too, so it's nice to use it every day without having to worry about irritating your baby's nose.
What I don't like about it
The backpack makes a really weird sound when it is worn and you walk around with it.It can annoy people sometimes when you have a bag that sounds like someone's crumpling paper.
Pros:
Pockets – The bag has lots of pockets which mean more compartments. More compartments mean that you can place lots of items in it.
Padded Straps – Designed as a hiking bag, the straps are padded to provide extra comfort for long term use.
Cheap – great value for money costing only 20 bucks
Cons:
Low Quality Zippers – The zippers were made of low quality material and will tend to fall off if you are not careful in pulling them.
Cheap – both a plus and a minus, a bag being cheap means that the item is made out of not so quality materials.
---
So there you have it, these are the top rated pink diaper backpack in Amazon. So if you need to buy one or planning on it, these are great choices for you.
---
YOU MAY ALSO BE INTERESTED IN THESE:
Extra Large Nappy Bag Best Diaper Bag For Two Kids Top Designer Baby Bags
---