Whether you are shopping for yourself, or your child, you find yourself in the market for the best home digital piano.
The problem is, however, that there are many to choose from! How can you successfully find the best home digital piano, that also won't cost you the earth?
Whilst there are many pianos on the market, there are a few trustworthy names that pretty much always guarantee quality. Now that's not to say that an unheard of piano name won't produce a great instrument.
There are many piano makers who are skilled experts within their field and are able to sell an excellent instrument at a very reasonable price, since they don't carry a renowned piano brand.
If you have time to do your homework, or have contacts within the musical world to make recommendations, then you may be able to find a wonderful hidden secret.
On the other hand, if you would like to buy a home digital piano from the range of a reputable name, you may still feel like you are facing a mission impossible!
Yamaha, Casio, Kawai – they all have a lot of models within their range! How can you choose one that's right for your needs?
The truth is that there are likely a number of digital pianos, all of which would suit your own requirements.
However, to make things a little easier for you, we've decided to highlight a few choices from a number of reputable piano brands that may be well worth your consideration.
Yamaha
There are many reasons that we, as pianists, love Yamaha. Probably the biggest of all the reasons, is reliability. There are few models that Yamaha has produced, in all of their years of piano excellence, which are not up to scratch.
Yamaha is a brand that is all about music being played at its absolute best. That's why from their beginner range instruments, right up to advanced level choices, they are all about quality. So here's a couple of choices that may interest you:
The Yamaha P115
---
---
This choice is a simple classic. It boasts 88 full sizes weighted keys with graded hammer action, perfect for making you feel that you really are playing on a traditional piano.
There are damper action and 192 note polyphony, as well as auxiliary outputs should you wish to connect your instrument to an audio system.
The Yamaha P-45
---
---
You'll find that this choice will come in significantly cheaper than the above choice. That being said, it still offers an excellent instrument, not just for beginners, but for intermediate players too. Here's what you'll like about it:
– 88-key with graded hammer action
– 10 Stereo sample voices
– Dual mode (combining two voices)
– Duo action (splitting the keyboard into two identical halves, an excellent teaching feature)
– USB to host port.
---
YOU MAY ALSO BE INTERESTED IN THESE:
Kawai Piano Price          Roland Digital Piano Reviews          Best Yamaha Digital Piano
---
Casio
It's not just Yamaha that produce excellent instruments, Casio also has earned a reputation for developing home digital pianos that have nothing to be ashamed of.
Here come a few from the Casio range that may meet your personal requirements very nicely:
The 
Casio CAS PX150
---
---
A very nice choice for beginner and intermediate pianists, in fact even advanced players should be able to appreciate this home digital piano.
The great thing about this digital piano is that it feels compact, is easily portable when necessary and has a feel that very satisfactorily reflects a traditional piano. So what features will especially appeal? Here they come:
– 88 keys with scaled hammer action
– Touch response with a choice of three sensitivity levels
– 128 note polyphony.
The Casio PX-750
---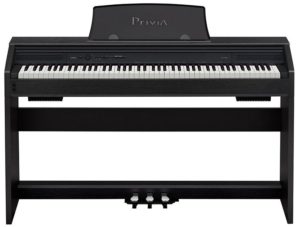 ---
If you are looking for a home digital piano that boasts the look of a real traditional piano, then this may just be the perfect choice for you. In a very stylish cabinet and with a sliding key cover, there is something extremely classy about the appearance of the Casio PX-750.
As well as the fact that it looks great, there are a few features that make it an instrument that has been designed to musically please:
– 18 tones and boasting split and layer
– 2 Track recorder
– Dual 8w speakers
– 3 pedals
– 128 note polyphonic
– Grand piano sound
– 18 built in songs.
Of course there are many other choices within both the Yamaha and the Casio range which may make the perfect match for you, the above are just a few examples to whet your appetite!
If you are still feeling unsure as to which piano brand or instrument to go with, then a visit to your local music store may be well worthwhile.
Even if you are at a beginner stage, you will be able to tell a lot from sitting down at a home digital piano and having a tinkle.
Remember, a digital piano purchase is no small matter. Not only will it cost you a significant amount of money, but it tends to be a purchase that you won't repeat in a while.
Having the opportunity to physically touch and play the piano you have in mind, is always a good idea when possible.
So if you have a music store nearby, go for a visit and have a play on a few choices. Even if you don't actually buy from the store, it will give you a good idea about various piano brands, how they sound, feel and perform.
You may find that you naturally bond with pianos from one particular range, over choices from another range. If this is the case, even if you are a beginner, listen to your gut instinct and go with it.
Finding the best home digital piano that will tick all of your boxes is not an easy task. However, with the option to choose from a range that holds a solid and well-deserved reputation, the task doesn't need to be a mission impossible.
Or if you have the time to do some research, you may very well find that a seldom-heard-of piano brand has a home digital piano that will suit you perfectly!
---
YOU MAY ALSO BE INTERESTED IN THESE:
Best Sounding Digital Piano          Best Digital Piano With Weighted Keys          Best Digital Grand Piano
---