Nothing can change the association of musical instruments and Roland Asia Pacific. Being the top-notch manufacturer of musical instruments in the world, Roland Asia Pacific has grown many musicians and aid in the development of budding music talents in amateurs around the globe.
They are skilled in developing musical instruments ranging from Keyboards, Synthesizers, Guitar & Bass, and Pianos to Drums & Percussion with advanced embedded technology to create an exceptional music experience to the players. Among all the instruments, Roland Digital Pianos are most hyped and renowned by many due to their ingenious touch-sensitive electronic piano design since 1974.
Roland Electronic Pianos are the preliminary ones with touch-sensitive keys. With the world's superior quality instruments, Roland Asia Pacific has never back off from striving to achieve customer satisfaction by providing incredible comfort as well as enjoyment while playing Ronald Digital Piano.
Hence, if you are planning to get a piano for yourself or to your kids, then opting for Ronald Digital Piano is the smartest choice. Here is our list of the five most excellent electronic keyboards by Ronald to choose from.
1. ROLAND 88-note Portable Digital Piano (FP-30)
---
---
The all new Roland FP-30 Digital Piano is just nice to fit in any space and compact instrument at an affordable price point. It delivers similar performance as of the high-end Pianos from Ronald.
It is an apt choice for someone who is seeking a lightweight and sizeable piano that is portable from one place to another. Moreover, the FP-30 was designed with 88-note PHA-4 which offers an authentic touch to maximize the music experience of the players.
Other additional features such as build in Bluetooth to connect to multiple music apps, real-time recording functions, and headphone enabled mode to play your piano without disturbing anyone around you no matter where you are. Ronald FP-30 has a powerful embedded speaker system and amplifier that delivers a 120dB sound.
With FP-30, the notes are clear since it's using Ronald's acclaimed supernatural technology which promotes a rich and accurate output. It has multiple modes from the split/dual mode that offers a wide selection of non-piano sounds like strings, organ, drums, voices to twin mode which is suitable for a piano lesson since it allows both student and teacher to play side by side at similar note and interval.
What most people upset about the Ronald FP-30 digital piano is the fact it is out of tune. Most of the Ronald Pianos use stretch tuning, and thus it will generate a slightly high pitch for higher-end notes and low pitch for lower-end notes.
Pros:
Compact, easy to fit in、Lightweight、Portable
Supernatural technology offers rich and accurate sound/music
Build in wireless Bluetooth to connect with various apps from your smartphone, tablet or laptop.
Powerful stereo and amplifier system
Headphone enabled for a private and quiet piano playing experience
Connectible to USB ports、Budget-friendly
Cons:
Can go out of tune due to the stretch tuning process
---
2. Roland 88-Keys Entry-Level Digital Piano (FP-10)
---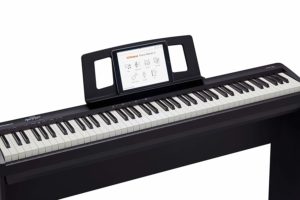 ---
Roland FP-10 is a new compact, entry-level digital Piano from Roland Asia Pacifics and it's available in both white and black color. It also comes with a high-quality optional stand, and PHA-4 ivory feels action with the supernatural piano sound similar to FP-30.
At such an affordable price point, FP-10 has a good quality of performance, offers an impressive music experience and supernatural sound. It could be a game changer for someone who wishes to start up with a piano playing and seeking for the right one to initiate.
They are some cool features like wireless Bluetooth connectivity where you can connect to Roland Piano Partner 2 App, USB device port so that you can save the recordings in a USB, 15 piano sounds, 96 note polyphony and more key elements that support to provide an optimum keyboard playing experience.
But above all this, a lightweight and portable piano for not a big price is quite promising and excellent choices to kick start your keyboard talent.
Pros:
Affordable price point
Lightweight、Portable
Wireless Bluetooth Connectivity
USB Device Port
Available in black and white
Cons:
---
YOU MAY ALSO BE INTERESTED IN THESE:
Best Keyboard Under 1000 Best Home Digital Piano Best Sounding Digital Piano
---
3. Roland Premium 88-Key Digital Stage Piano RD-2000
---
---
The extraordinary next generation of RD series Stage Piano from Roland the all-new RD-2000 is the best choice for keyboard performers and professionals since it features dual sound engines which makes it the most acoustic electronic pianos ever that offers the finest onstage action.
There is a wide selection of onboard top quality sample sounds to perform any onstage musical tasks with two wave expansion slots to add in an extended collection of sounds.
And its modern interface with eight knobs and nine sliders that facilitates real-time sound control, the RD-2000 is an excellent master controller for working with software-based instruments onstage.
The interactive layout of RD-2000 was developed keeping the professionals in mind and ensuring their comfort with a lightweight design that assists easy portability. The PHA-50 hybrid keys made of wood and molded construction provide a classic feel with persistent durability throughout the use.
However, you need a pay a whopping $2500 in return for all that cool feature of the piano. The price of RD-2000 is more on the high-end and that's the only downfall it has.
Pros:
Designed especially for keyboard performers and professionals
Dual sound Engine、Portable、High durability
Interactive design with hybrid keys made of wood
Audible sound effect、Lightweight
Extra expansion slots for additional sound collections
Master controller of real-time sound and effects onstage
Cons:
---
4. Roland Digital Piano (RP102)
---
---
This is a new edition to the Roland entry-level series. If you are after a piano that you can get started on which sounds great and feels good to play, then RP-102 is the suitable model you need to check out.
It has an acoustic sound effect with authentic touch-sensitive keys that create an incredible experience while playing. It has Bluetooth connectivity that allows you to connect to plenty of musical apps and control the sound from your iPhone, Ipad or Android devices.
The RP-102 uses Roland's advanced supernatural technology that facilitates rich sound. It has a creative design and texture on the heavier case which provides an authentic piano feel for learning.
There is a wide selection of songs in the piano itself and the use of Roland Partner 2 App you can have access to more collections. The RP-102 model retails for a lower, budget-friendly price in the market and thus it's highly affordable for piano learners.
Pros:
An entry-level model, apt for beginners
Acoustic sound effect
Wireless Bluetooth Connectivity
Inexpensive、High durability
Cons:
Heavy
Immotile/not portable
---
5. Roland Digital Piano (FP-60)
---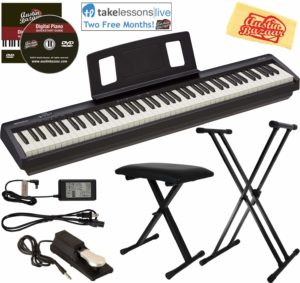 ---
The Roland FP-60 Digital Piano is supported by Supernatural Piano sound engine and PHA-4 Keyboard that provides adequate escapement. It is connectable to your smartphone and tablet via the build in wireless Bluetooth feature and you can enjoy playing along with a vast selection of songs from the app through the powerful and rich stereo and amplifier system of the piano.
The optional stand and KPD-90 three-pedal unit that comes along with the keyboard offers an integrated design and appearance suitable for home use. With FP-60's advanced 288- notes of polyphony, you can generate an audible performance realization. Due to size limitations, it is easily portable and available at a reasonable price point in the market.
Hence, it is the right choice for beginners who wish to learn to play the piano and improve your talent in it.
Pros:
Small in size/lightweight
Portable、Economical、High durability
Wireless Bluetooth Connection
Optional Stand (KSC-72) and Three-pedal unit( KPD-90)
Elegant design that merges well for home use
Cons:
---
Hence, here are the top 5 Roland Digital Piano Reviews that provides both professional keyboarders and beginners to experience an authentic piano playing experience. With its ever-present commitment to improved technology and creative design, Roland has never failed to provide its customers with comfort, excitement, and a classic feel with its touch-sensitive pianos.
---
YOU MAY ALSO BE INTERESTED IN THESE:
Best Portable Digital Piano Best Digital Stage Piano Best Digital Piano With Weighted Keys
---