Ice cream making tends to be more complicated than just freezing and flavoring ice cream and milk. You need not only ingredients but also the right process. Ice creams have to be churned constantly while freezing to stop the formation of ice crystals.
An ice cream maker has three components, a paddle, a freezing bowl, and a motor. But, with various brands in the market, it may be challenging to select the best. That is why we have provided you with a guide on finding the best home soft serve ice cream machines.
How To Choose The Best Home Soft Serve Ice Cream Machine?
Soft-serve ice cream is aerated ice cream. The air kept within ranges between 35-45% to maintain consistency and taste. But how do you choose the best home serve ice cream machine? Some of the top features to look out for includes:
Pressure Or Gravity Fed
These are essential features to look out for as it determines how a liquid soft serve ice cream gets fed from a hopper to freezing cylinder of the machine.
What distinguishes them is that pressure fed machines rely on a pump to re-supply more mix to the cylinder, whereas gravity-fed devices rely on natural gravity to transfer the mix to the cylinder.
Besides that, pressure fed machines enable you a higher and controlled air percentage for a higher quality product. Gravity-fed machines, on the other hand, are simple to maintain and clean and also cheaper.
Hopper Agitator
Most of the high-end models have this option. Its primary purpose is to stir the mix in the hopper, thus improving consistency and also prevent product separation. An agitator eliminates the need to store the product manually, which means it eases its use.
Air Pump
This feature ensures you get creamy and light soft-serve treats of ice cream. It adds air to the mix before freezing, resulting in a lighter and smoother soft serve product.
Apart from that, it is a feature that reduces the cost per serving. However, a machine with an air pump needs more assembly time, maintain and clean, unlike its counterparts.
Air-Cooled Or Water-Cooled
Under heavy operation, I e cream machine produces plenty of heat. Meaning you must understand how it keeps itself cool. Air-cooled machines are cheaper with simple options that require a power connection and wall clearance for exhaust ventilation.
That means you can place it anywhere you want. Also, they perform beat in cool environments and are also less effective than water-cooled ones.
Water-cooled machines use water instead of air. They are quite an in operation, effective in heat removal, and operate efficiently both in a cool and warm environment. They also do not require any clearance space like the air-cooled counterparts.
However, it needs a water line connection to operate this, limiting the placement options.
---
If you want to enjoy smooth, delicious, and soft ice cream anywhere and anytime then you must have a soft-serve ice cream machine. The information provided in this write-up will help you to buy and use the best home soft serve ice cream machine for you.
What Is The Best Home Soft Serve Ice Cream Machine?
---
1.
Cuisinart ICE21R Frozen Yogurt Automatic Ice Cream
---
---
Cuisinart ice21r frozen yogurt automatic ice cream is ideal for making ice cream because it is automatic. All you need to do in this machine is add your mixture of ingredients and close the lid. Wait for about 20 minutes as the machine does the rest of the work.
What's fun is that you can watch the process through the easy-lock transparent lid. The large spout does your work of adding ingredients even much more effortless.
Pros
Features a double-insulated freezer bowl
Has a capacity of 1½ quarts
Has an easy-lock lid
Features a mixing paddle which does all the stirring
The rubber feet are non-slip.
Cons
Requires pre-freezing
It might be a bit noisy
---
2.
Cuisinart ICE-45P1 Mix Serve 1.5-Quart Soft Service Ice Cream Maker
---
---
Ice cream is nothing without smoothness. Cuisinart ice-45p1 mix serve 1.5-quart soft service ice cream maker is engineered conscious of this and is fitted with a mixing arm. This arm mixes and aerates ingredients in the freezer bowl to create smooth, soft ice cream.
The arm is fully automatic, and therefore you don't have to worry about doing the manual stirring. What's more, the smooth ice cream dispenses when you pull the handle down.
Pros
Easy-lock lid with window
Some parts of the ice cream maker are removable for easy cleaning
Features rubber feet which are non-slip.
Has a double insulated wall for fast and even freezing
Easy operation
Cons
In some instances, the machine may not dispense the ice cream smoothly
Requires washing too frequently.
---
3. Cuisinart ICE-70 Electronic Ice Cream Maker
---
---
You might agree with me that nothing feels excellent, like having various options to choose from. This is the same opportunity that the Cuisinart ice-70 electronic ice cream maker is giving you. This Cuisinart ice-70 electronic ice cream maker is coming with three settings that have multiple speeds.
What's more, the control panel has an LCD screen, enabling you to view your settings. The combination gives you the kind of ice cream you want and how you want it.
Pros
Has an improved paddle with a faster processing time
Features a countdown timer with an auto-off
The materials used are BPA free
The ingredient spout had an integrated measuring cup
The machine comes with a recipe book
Cons
Not a very large capacity
Requires pre-freezing for 24 hours
---
4. Cuisinart ICE-30BCP1 Ice Cream Maker
---
---
It sounds horrible to buy a machine, and then after a month, the device is broken. This wastes your time and resources. However, some of the best home soft serve ice cream machines have made efforts to solve this issue.
Amongst the leaders in the Cuisinart ice cream maker, which features a very durable stainless-steel housing. In case you are wondering if the housing is BPA free; yes, it is.
Pros
Features an automatic mixing paddle
The machine is very easy to clean
Features a double-insulated freezer bowl.
It comes with instructions and some recipes to get you started.
Has a capacity of 2 quarts
Cons
The item operates at 110/120 V
You may experience some loud noise
---
5.
AmazonBasics 1.5 Quart Automatic Homemade Ice Cream Maker
---
---
Making ice cream in the comfort of your kitchen has never been easy. However, the Amazonbasics 1.5 quart automatic homemade ice cream maker has made it super easy, like never before. You will love the fully automatic operation and mess-free design.
When you have added the ingredients, take a nap, and let the machine do the work. This Amazonbasics 1.5 quart automatic homemade ice cream maker works while you rest and then allows you to take all the glory.
Pros
Features an easy lock lid.
Creates desserts in 30minutes or less.
Has a 1.5 quarts capacity
Has a large spout for easy adding of ingredients.
The machine parts are very easy to clean.
Cons
It is made of plastic; not very durable
The motor may not be very ideal
---
YOU MAY ALSO BE INTERESTED IN THESE:
Best Stainless Steel Electric Meat Grinder Best Grilled Cheese Sandwich Maker Best Hockey Gloves
---
6. Hamilton Beach 68330N Automatic Ice Cream Maker
---
---
If you love making one-time ice cream for all of your family members or friends, Hamilton beach 68330n automatic ice cream maker is for you. This best home soft serve ice cream machine has 4 quarts or slightly below 4 liters capacity, which you will love.
What's more, the machine is fully automatic; therefore, you don't need to stir. This Hamilton beach 68330n automatic ice cream maker is ideal for birthdays, summer parties, or vacations.
Pros
Comes with over 20 recipes included.
It has an easy lock-in lid.
The machine design is easy to use
It is fully automatic
Has a large capacity
Cons
It is not very durable
May have some grinding noise from the motor
---
7. VPCOK Ice Cream Maker
---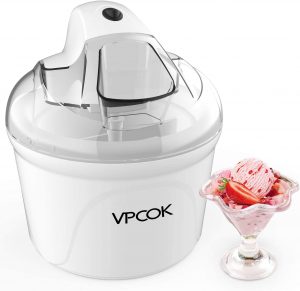 ---
Many are times when users buy an ice cream maker, and they spend days, if not weeks learning how to operate the machine. The best home soft serve ice cream machine must be user friendly.
This is precisely what the VPCOK Ice cream maker is. It is effortless to operate. Using the large spout, pour your ingredients into the mixing paddle and the freezer bowl. Then lock the lid.
Pros
Features a heavy-duty motor
It is fully automatic
Features a detachable freezer bowl
Very easy to clean
The machine comes with an instruction book and recipes.
Cons
The paddle is made of plastic; not very durable
There is some slight noise of the paddle stirring.
---
8. Sweet Alice 1.5L Ice Cream Maker
---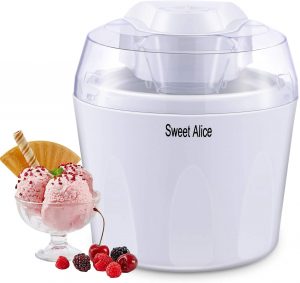 ---
Sweet Alice features a 1.5 detachable frozen bowl. This bowl has two things that you will amazingly love. First, the freezer bowl and the mixing arm is detachable.
Therefore, very easy to clean and store after use. Secondly, the freezer bowl is a large capacity, and you can use it to prepare ice cream for 4-6 people. This a perfection of exactly what your family needs.
Pros
The machine is fully automatic.
It is very easy to use
Has a 30mins countdown time with an auto shut off
Features a transparent lid.
Detachable engine making it safe and easier to clean
Cons
Cannot make hard ice
The machine parts are not dishwasher safe
---
9. Northair Ice Cream Maker
---
---
Pre-freezing has two effects on you. One, it consumes your time waiting for the bowl to freeze first. Second, pre-freezing hikes your electricity bill for no good reason.
Therefore, an ice cream maker that does not require pre-freezing is an ideal choice for you. It is for this reason that the Northair ice cream maker outshines its competitors. It has a high-efficiency compressor.
Pros
It is very easy to use
It features a control panel with an LCD screen
It has three settings to make ice cream
The package includes a removable mixing bowl
The countdown timer has an auto shut off
Cons
Not very useful in making slushies
Takes a bit longer to make hard ice cream
---
10. Whynter ICM-15LS Automatic Ice Cream Maker
---
---
Cleaning isn't something we love. Therefore, the best home soft serve ice cream machine may be very easy to clean after use. Whynter ICM-15LS ice cream maker stands out in its ease to clean.
This Whynter ICM-15ls automatic ice cream maker has a BPA-free aluminum removable bowel and churn blade that makes your cleaning easy and effortless. Similarly, since you can easily disassemble the bowel and churn, the Whynter ice cream maker is very easy to store.
Pros
Has a capacity of 1.5L.
Features an LCD timer control
Has a reliable built-in timer
The motor protection function shuts off to prevent damage.
The outer features durable stainless steel
Cons
Does not support 220V
It does not have a keep cold mode.
---
Is An Ice Cream Machine Worth It?
Although ice cream makers tend to be expensive, they are worth any penny. That is because, after a long time, an ice cream maker will help you save lots of money in the end.
If you are always buying specialty ice cream or niche flavors, it is the best option. Furthermore, it is more fun experimenting with various flavors.
Besides, the best home soft serve ice cream machine is simple to use. The process is simple if you follow recipes to make creamier ice cream.
---
How Does Homemade Ice Cream Compare To Store Bought?
Many people crave ice cream during the summer season and buy it from stores to keep cool. When making a purchasing decision, you might be wondering if homemade ice cream will taste better or the same as ones you buy from the store.
Whichever the case, various advantages come with creating homemade ice. The process is similar: therefore, they compare directly.
Ingredients
The best part is that you will find all the ingredients included in your kitchen. You need eggs, milk, sugar, heavy cream, and vanilla extract for homemade ice cream. Even though heavy ice cream is not used often, other dishes may need it.
Control
Generally, making homemade ice cream means you control ingredients that go into your ice cream. When buying ice cream from the store, you always have to check whether the added substance is safe for your body.
Flavors
Most ice cream brands will strive to make a single flavor combination based on current trends. However, with an ice cream machine, you create different flavor combinations. Some of the flavors you can try on include beer ice cream, mint ice cream, earl grey tea, sweet corn ice, and brown butter bacon.
---
How Does A Home Ice Cream Machine Work?
Normally two types of ice cream machines are used in domestic kitchens to make ice cream – electric and manual. These machines are available in different price ranges depending upon their features and facilities provided by them.
The working of both types of ice cream machines is based on the same principles as both of them have a paddle known as a dasher fitted in a canister to hold the mixture of ice cream.
In manual units, this canister is placed inside a container containing the mixture of salt and ice that works as a freezing agent whereas in electrical units it is put into a refrigerating unit powered by electricity or the container has a chemical coolant sealed inside its walls.
The mixture inside the canister is stirred by the paddle or dasher and it may take 24 to 48 hours to convert your mixture into a soft, smooth, aerated, and creamy ice cream.
It avoids the formation of crystals n the ice cream that can ruin its texture and taste. In electrical machines, dasher is turned by electrical energy whereas in manual machines muscle power is used for this purpose.
To lower the temperature of the container containing the ice cream canister, in some machines rock salt and ice are used. To make 4-6 quarts of ice cream you will have to turn the paddle manually for 30-40 minutes.
On the other hand, table salt and ice are used in electrically operated ice cream machines to cool down the canister and a motor is used to turn it.
Thus the working of a home ice cream machine is almost similar whether it is operated manually or electrically.
---
How To Clean Soft Serve Ice Cream Machines?
When you make soft-serve ice cream in your home ice cream machine then you must know why and how to clean it after every use. It is important to clean the ice cream machine as soon as possible after you have finished the process of making and packing soft serve ice cream.
It will help you to have hygienically safe and delicious ice cream every time.
Reasons To Clean Your Ice Cream Machine:
You should clean your home ice cream machine after using it every time to stop the infestation of bacteria in your machine, prevent a mixture of tastes and flavors that can affect the overall taste of your ice cream.
You can also improve the performance of your ice cream machine by cleaning it properly after every use.
You can clean your home soft serve ice cream machine in a few easy steps like:
Empty The Machine: While cleaning the ice cream machine you should empty it. There should not be any leftovers in its blades or the canister.
Flush The Machine With Water: the machine should be flushed thoroughly with running water to make it free from any kind of blockage. Water will clean your machine properly if there is no blockage in it.
Disassemble The Machine: To clean your ice cream machine thoroughly you will have to disassemble it as soon as possible. If you are dissembling it for the first time then you must use the user's manual to know more in this regard.
If any ingredients of your ice cream are stuck to any non-moving or moving parts of your machine then it should be removed completely.
Soak And Scrub: You must soak the intricate parts of your ice cream machine in soapy warm water to clean them more easily. To remove food or debris completely from its parts you can use a gentle brush or a sponge to scrub the parts. Then you should use cold water to rinse them and dry them.
Reassemble The Machine: After cleaning the parts of the ice cream machine thoroughly you should assemble it again. You can use the user's manual while reassembling the machine if you find it difficult. Your machine is ready to use again.
---
Conclusion
The truth about homemade ice cream is that they are time-intensive and also need hard work. However, it is more advantageous compared to ones bought in-store varieties. If you are an ice cream fan, then making a homemade one is more beneficial.
And since you have gone through our review, it means you need to give it a try. If you opt for the best home soft serve ice cream machine from our review above, we hope it meets your expectations.
---
YOU MAY ALSO BE INTERESTED IN THESE:
Best Mini Portable Washing Machine Best Oil-Less Air Fryer Best Freestanding Bathtub
---