Led Light Up Flowers or Flower Lights can add a magical sparkle in the ambiance of a room. These lights are given the shape of flowers made of shining colored materials and give light with the LEDs fitted in them.
These lighting flowers come in single units as well as in strings to be used as an accessory for hair like hair-pin etc. as well as to decorate a room in the form of a bouquet or the Christmas tree etc.
Some of these led light up flowers more realistic and prettier even from their original versions. The flowers are normally made of plastic to make them stronger and durable. But if you want to use fabric then a semi-transparent fabric can be the best choice for it.
You can use LEDs to match the color of the flower or combine LEDs of various colors to give a colorful feel while decorating a space.
Some of the best led Light Up Flowers are reviewed hereunder to help you in selecting the most suitable one for you.
1. Romantic Rose Flower by Avanti
---
---
This string of fairy light of purple colored lamps can be used to decorate outdoor on the wedding or a room on valentine's day or Christmas. They can also be used to decorate a garden, festival party, and patio, etc.
What did I like?
I liked the portable design of the string of 20 white LED lights and rose flowers with a clear length of over 7 feet or 2 meters. It can be used for up to 30,000 hours with the help of 3 AA batteries.
It can be hung or displayed easily to decorate any surface including grassy lawn, trees, doors, windows or walls at any occasion like Christmas, valentine's day, birthday party or night parties, etc. it can be used in flashing light setting and steady setting as per your choice with its 2 light modes. Your satisfaction is completely guaranteed.
What I do not like?
Though these lights are beautiful the size of the flowers is below expectations. The purple color of these flowers looked pretty on the picture but in actually it must be yellow or pink to give it a more realistic look.
Pros:
20 LED with over 30,000 hours lifespan
Easy to use
Portable design
Cons:
Purple color not suitable for every location
Flowers smaller than expected
---
2. Solar Flower Lights by WOHOME
---
---
These 2 packs of solar stake lights include 5 lily flowers with multicolor, color changing LEDs to be used to decorate outdoor locations like gardens, patios, bigger flowers and the backyard. These lights are charged through solar panels.
What did I like?
The lily flowers in these solar lights look more realistic due to the tame fabric and waterproof glass used in making them. Its solar panel has been upgraded to make it efficient to use in any weather condition. It is designed to work on solar power which does not require any wiring or electric network to power up it.
It can be used any time for decorating trees, gardens, flowerbeds, flowers, walkways, and fences, etc. The iron wire used in making its leaves and stem can be adjusted in any direction to improve its compatibility with the environment.
Once its 600mAh rechargeable battery is charged fully it can serve you for at least 6-8 hours. It is backed by a 100% satisfaction guarantee.
What I do not like?
Though the fabric used in these lights make them look beautiful but their durability can be doubtful as fabric usually deteriorates after some time. They may need an additional power supply as solar power usually does not last for long.
Pros:
Realistic lily flowers
Solar panel for power supply
100% satisfaction guarantee
Cons:
Fabric flowers may not last long
Solar power is insufficient for 6-8 hours
---
3. Orchid Lights by Homeseasons
---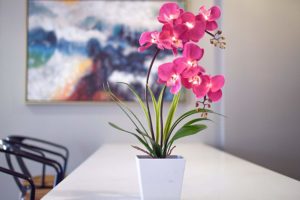 ---
This battery operated pot of orchid flowers includes 9 lights to make it look more attractive in a special arrangement.
What did I like?
I liked the design of these lighted flowers with 21" high orchids due to their realistic looks. White LEDs in them make the environment a warmer and romantic look.
The LED technology used in it allows you to use them safely with your pets and children, without needing any wire and plug, as it works on 2 AA batteries.
It can be used for up to 50,000 hours by operating it easily with the help of the on/off switch on the bottom of the pot. This romantic flower light can be used to decorate bars and rooms as well as gifted on the occasion of Christmas, wedding or birthday party.
What I do not like?
Initially, these orchids looked really pretty but after some time they stopped working even after changing their batteries.
The quality of plastic used in making these orchid flowers is not up to the mark. Some of the flowers are not perfectly shaped. The look of these artificial orchid plants disappointed me. Its price is higher as compared to its quality.
Pros:
Decently designed artificial orchids
The lifespan of over 50,000 hours
Any environment can look warm and romantic
Cons:
Cheap plastic used
Disappointing appearance
---
4. Crystal Flower LED Bonsai Tree by Lightshare
---
---
This 18-inch high bonsai tree with LED crystal flowers includes 36 LEDs to provide warm white light. This battery or DC powered tree with lighted flowers includes a built-in timer to manage it easily.
What did I like?
The 18" height of this artificial bonsai tree with 36 LED lighted blossoming flowers make it very attractive for any environment.
It can be operated on to power options including a DC adapter or 4 AA batteries to use it more conveniently for at least up to 6 hours. Its automatic timer keeps it off for 18 hours and turns on for 6 hours.
It can be adjusted as per your requirements. These lighted flowers can be used to decorate indoor locations including your room, bar, table as well as night lamps, etc.
It is portable and easy to install. They have two light settings to light them constantly or to blink their light.
What I do not like?
Though it is a very fine product, but its position is very misleading. Moreover, it did not include any adapter as advertised. It was very disappointing for me when I could not light it by using batteries.
The design of this tree was not attractive as its branches look like black electrical tape is wrapped on them. Some of its LEDs gave intense light which created discomfort when looked directly on them.
Pros:
Attractive bonsai tree with 18 LED lights
Works on DC power or batteries
Easy to install
Cons:
Disappointing working in some cases
Intense light needs to be controlled
---
5. Natural Willow Twig Lighted Branch by Lightshare
---
---
The branches of these willow twigs can be lighted adequately to decorate your home with the help of 16 LEDs used in it. It can be powered by batteries as well as through a USB connection.
What did I like?
The twig branches used in this flower light is made of 100% natural wood. These branches provide white warm light with the help of 16 LEDs used in them.
The power can be supplied to these upgraded flowers through 3 AA batteries or through a USB charger by using its USB plug-in port.
The overall height of this unit is 36 inches. It also includes a 16 inches long extension cord along with a 60 inches long USB power cord. It has been designed only for indoor usage.
The cylindrical blister box used for packaging these lighted flowers is also a collectible item and can keep your lights safe for a long time. However, you should handle it with care as its dry natural wooden twigs can break any time.
What I do not like?
While moving it from one place to the other you will have to plan your move very carefully as these upgraded lights are very fragile as its twigs can break into small pieces.
It's branches can also break in transit even if it is tightly packed in its container. Its base is not wide enough to keep it stable. The USB power adapter has a USB plug which cannot be used in any socket.
Pros:
100% natural wood twigs
Powered by USB charger or batteries
Made for indoor use only
Cons:
Very fragile delicate and thin twigs
Must be handled carefully
---
Conclusion
The Led Light Up Flowers reviewed in this write-up help you to know about their looks and feasibility to use them in your home or some outdoor location. Some of their users have complained about them on the basis of their personal experiences.
But, the personal choice has no importance while evaluating a product on the whole. These lighted flowers can decorate any venue for a long time if handled with care. You can also gift these lighted flowers at some special occasion to your loved ones like on their birthday party, wedding or Christmas celebrations, etc.
So, if you want to create a romantic environment in your home or decorate your home then you must buy one of the Led Light Up Flowers of your choice at least once to have an experience of life.
---
YOU MAY ALSO BE INTERESTED IN THESE:
Dragon Ball Z Lamps            Best Moon Lamp            Best Lamp For A Vanity Table
---