These are the Five Best Diaper Bags on Amazon
There are many essentials that parents of a baby should have to enable them to care for an infant properly. One of the essentials would be a diaper bag. A diaper bag is a storage bag designed specifically for the needs of a baby.
These bags contain things like a removable changing pad, pockets for diapers, baby wipes, bottles, toys, and more. Sometimes a diaper bag, on the outside, looks like it is intended for the needs of an infant, but some diaper bags are disguised to look like stylish totes or purses.
---
---
There are various ways to find diaper bags, but one of the most convenient ways, especially for busy parents, is to look on Amazon.
Here is where a mother or father can find lots of different selections often at a discount. Plus, if you are an Amazon Prime member, and a bag is listed under Prime, you can get the bag shipped for free and fast.
What are the five best diaper bags on Amazon?
Bellotte Diaper Bags
---

---
Bellotte is a brand that produces some of the most stylish diaper bags around. They begin with fashionable styles that look especially good for women who are interested in design.
However, despite their appearance, they are also practical and contain everything that a diaper bag should.
Inside the compartments is a multitude of pockets allowing the parent to have plenty of space for storage, including a place for diapers, wipes, bottles, pacifiers, cell phone, zipper enclosures for personal items, such as cards, as well as side pockets.
These diaper bags also include attractive changing pads that fit comfortably in the bags. An attachable and adjustable strap, designed for comfort, is also included. Clips are also included to use for hanging from a stroller.
These bags are fashionable, practical, and also affordable. You can buy one of the Bellotte bags for less than $60, and they are available under Prime for free shipping.
SoHo Designs Diaper Bag
---
---
SoHo Designs makes a diaper bag unlike any other. Their Grand Central Station 7 Pieces Diaper Bag set is one of the most extensive diaper bags you can find.
Along with its attractive appearance, in this collection, you receive the main compartment bag that has multiple pockets for all of the essentials – diapers, bottles, and more.
The bag zips on top, and it comes with a carrying strap. But that's just the beginning of the bag; you also receive a small personal purse that has a zip closure and a carrying strap.
Not only does this give a mom more room, but she can also match her purse to her diaper bag to make a fashion statement.
Also, there is a matching changing pad that fits perfectly with the look of the diaper bag. Plus, there are two accessory cases for any small items a mom wants to carry, and an insulated zippered bottled bag to take any worries away from worrying about bottle temperature.
Two grip stroller attachments are also included in the set. You can get the SoHo Designs diaper bags for less than $60, and they are available under Prime.
Graco Diaper Bag
---
---
Moms are not the only people to carry diaper bags, and Graco is well aware of that. Their Smart Organizer System Backpack Diaper Bag is perfect for moms and dads.
In an attractive solid black and grey color, this backpack diaper bag deceptively looks like an ordinary backpack, but inside, there's so much more.
The smart organizer system contains pockets for diapers, bottles, toys, anything you need for your baby on the go. Plus, as with all good diaper bags, a changing pad is included. But it also includes a unique feature that is not found with all diaper bags.
The backpack has a wipes case dispenser featured on its side. Many diaper bags look like they are intended for mothers to carry, but the Graco diaper bag, in a backpack construction, is the perfect unisex bag for parents who are proud to share baby duties.
You can get the Graco diaper bag for less than $50, and it is available under Prime for free shipping.
NimNik Baby Diaper Bag
---
---
Another beautiful but functional bag for parents is the Premium Diaper Tote Bag by NimNik. This is a designer diaper bag attractive enough to carry anywhere but functional enough to have everything you need.
This all in one bag, with its designer appearance, can also be used as a shoulder bag, weekender bag, and more, removing your need to have more than one bag.
It includes lots of pockets for everything you need – diapers, wipes, bottles, pacifiers, toys, etc.
Everything about the bag is made of non-odorous, BPA- free, phthalate-free materials. In addition to the changing pad, there is also a wet diaper bag purse.
NimNik gives its customers a 100 percent money back guarantee. You can get a NimNik bag for less than $60, and it is available under Prime.
Skip Hop Diaper Bag
---
---
The Skip Hop Versa Diaper Bag in black looks nothing like a frumpy diaper bag. It looks like a high-end black designer purse perfect for the woman who appreciates fashion.
It features black fabric, gold zippers, and a water resistant blue colored lining. No one will know that you're carrying a diaper bag, only you will know when you look inside.
The BPA-free, PVC-free, phthalate-free bag contains two insulated front pockets for bottles and nine more pockets for everything your baby needs including clothes, diapers, wipes, etc. There are an expandable center and a zip down the center for even more storage.
The bag contains an attractive matching changing pad, and it can hang neatly on a stroller. The high-end diaper bag is available for less than $75 and it is available on Amazon Prime for free shipping.
---
---
These are five of the best diaper bags on Amazon. Check out the site for more details about these attractive and functional diaper bags.
best affordable stylish diaper bags || best diaper bag for baby || best unisex diaper bags
Helpful Tips For How To Choose The Best Diaper Bags
When you are on the go with your baby, your diaper bag can truly be a lifesaver. By allowing you to conveniently carry everything that you need with you, it can make being out and about with your child much easier.
Whether you are heading out on vacation or just running to the local store, there are so many different things to think about when taking your baby with you.
Having a high-quality diaper bag already packed with all of the essentials can make any trip go much more smoothly.
---
---
When it comes to choosing the best diaper bags, there are a few basic things that you should keep in mind.
By carefully comparing all of the options that are out there, you should be able to find a well-made diaper bag that provides plenty of room for all of your essentials.
Here are some tips that you can use to narrow down the selection:
1. Look for a hands-free design. Babies can be a handful. From the time they are newborns until they are toddlers, they typically take two hands to manage.
The last thing that you want is for a bulky diaper bag to be getting in your way or falling off your shoulder while you are trying to lift or hold your baby.
To avoid any problems, you may want to look for a diaper bag that will stay securely strapped to your body even when you aren't holding onto it. For instance, backpack-style diaper bags or messenger-style bags that can be slung across your body are fantastic choices.
They stay securely in place and keep your hands free even as you bend and twist to move your baby. Additionally, they help minimize the amount of strain on your neck and shoulders, which is important anytime you are carrying a heavy bag.
2. Make sure the diaper bag is easy to clean. Babies are messy. Your diaper bag is sure to experience spills or accidents at one point or another.
Looking for a design that is easy to clean is absolutely essential. It is generally a good idea to avoid light colored fabrics that may show stains. Instead, opt for darker fabrics with prints to help camouflage any staining or discoloration.
3. Consider choosing a unisex design. If both you and your spouse are going to be carrying the same diaper bag, be sure to look for a design that you both like.
There are many incredible diaper bags out there that are not too feminine or masculine. Ideally, the two of you should shop for the diaper bag together so that you can find a style that you both like.
Alternatively, you can each choose your own diaper bag and keep each one fully stocked and ready to go.
4. Look for a bag with plenty of pockets. Internal and external pockets will help you stay organized. There are so many different items that you need to carry with you that having plenty of pockets is essential.
Not only will you be carrying diapers, pacifiers, bottles, toys, and snacks but you may also want to carry things like your cell phone or sunglasses. By purchasing a bag with a lot of pockets, you will have a place for everything so that you can stay organized.
5. Consider the type of closures. The way the bag closes will largely dictate how easy it is to use and how likely your items are to become lost inside the bag. Most parents prefer bags with zippers.
The zippers close securely, keeping everything tucked safely inside. Ideally, the pockets inside the bag should also have closures on them to keep items from falling out.
The only downside to zippers is that you may need to use two hands to open them. Because of that, you may prefer to look for a bag with magnetic closures that can be operated with one hand instead.
That way, you can open and close the bag even if one hand is busy taking care of your baby.
6. Look for extra features. Today's diaper bags incorporate many amazing features that are designed to make life a little bit easier for parents on the go. For instance, some diaper bags have insulated pockets where you can keep your bottles.
That way, they won't get too hot or too cold. Other bags come with a matching changing pad which can be a great way to ensure that you have a clean place to change your baby when you are on the go.
7. Don't spend more than you need to. Diaper bags range in price from extremely affordable all the way up to ultra expensive. In most cases, you don't need to spend a fortune on a diaper bag. Many of the more affordable bags will give you everything that you need.
One common mistake that new parents make is opting for only top-of-the-line products. Unfortunately, the cost of going this route can quickly add up. Spending more money doesn't always mean that you will get a better product.
Oftentimes, you can get a high-quality bag for a lot less than you might think. Don't be afraid to look at bags that fall into the lower price range. By reading reviews before you buy, you can usually find an excellent bag at a price that you can afford.
These tips for how to choose the best diaper bags should help you pinpoint the ideal bag for your needs. There are so many different styles of diaper bags out there. If possible, you should visit several stores and try out some of the different options that are available.
This will give you a chance to decide which style you like the best. Even if you are planning on ordering your diaper bag online, it can be beneficial to see some of the options in person.
That way, you will be able to determine which style is the best fit for your needs and you will know exactly what you are getting when you place your order.
best messenger diaper bags || best lightweight diaper bag || best fashionable diaper bags
Complete Guide On Finding The Best Diaper Bag Brands
If you have many young children or are in charge of looking after a number of young children, you may be in need of a diaper bag. However, you may be dismayed by the fact that there is a huge range of different diaper bags that are currently available.
All of the choices available can be overwhelming and leave you to feel anxious about which diaper bag will be best for you and your current situation. This article will serve as a complete guide to finding the best diaper bag brands.
---
---
If you look at many of the different diaper bag brands that are currently on the market, you will notice that they are dominated by a number of significant brands. The brand competition when it comes to the diaper bag market is quite competitive and fierce.
This is a good thing for the consumer as it means that the brands are doing everything possible to create the best possible product for their customer so that their customer does not go to a rival brand's product.
With that being said, there are certainly strong differences in quality with the many diaper bag brands available. It can be very hard to differentiate which brands are to be trusted and which brands are not to be trusted.
Many people think that the only way to test this is to blindly choose one specific brand and hope that their bag product is of high quality. Thankfully, there are lots of more efficient ways to find a high quality bag brand in this market.
First of all, one brand may be perfect for your specific needs, while another may be absolutely horrible for your specific needs. The best brands in diaper bags are not as clear cut as other industries.
This is because each of these brands usually has a target consumer market which differs greatly from other brands.
Thus, one brand of diaper bags may be specifically made for individuals with only a small number of children and place a strong value on fashion.
On the other hand, another brand of diaper bags may be made to be the cheapest and most efficient option for a person with a very large number of young children that wear diapers.
Thus, before looking into the many brands of diaper bags available, it is important for a consumer to first analyze their own personal situation.
If a person does not analyze their own needs and wants when it comes to diaper bags before purchasing, they will be setting themselves up for disappointment.
It's for this reason that planning in the market for diaper bags is very important. A person should create a list of what they look for the most in a bag such as this.
Questions should be asked such as whether they are looking for fashion and style in these bags or pure utility.
---
---
Once the personal situation of a consumer has been analyzed they can start filtering their search to diaper bag brands that have been specifically made to cater to their needs.
Hence, from there a consumer will be able to directly focus on brands that are relatable to them, and then filter further to find the perfect brand for them.
There are simply so many diaper bag brands at the moment that not doing the above steps is simply going to cause chaos for someone looking to get the perfect bag.
The different brands that are available today usually place emphasis on either style or utility. After a consumer has assessed their personal situation, they will be able to gravitate towards a brand that either focuses more on style or more on utility.
Overall, the costs that are associated with stylish diaper bags are much more than the of a diaper bag that has been created solely around utility. Hence, those that are on a tight budget should always prioritize a brand that puts utility over everything else.
---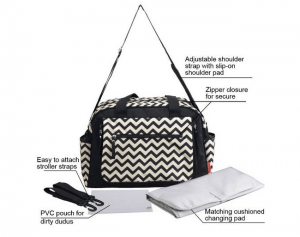 ---
The great thing about the brands that produce these diaper bags is that they often have a very big social and online presence. This means that if you have specific questions about their product, you will be able to ask them very easily.
For consumers that have specific requirements when it comes to the diaper bags, they are looking for should definitely ask these brands questions.
Thus, by judging from the answers they have received from the diaper bag brands they are looking at, they will be able to judge which brand has the best product for their personal situation.
Furthermore, thanks to the great online presence these brands have, a person will be able to look at what other customers have shared about their experience with the diaper bags of a specific brand.
Hence, by looking at these experiences, a consumer will soon find out which brands create the best diaper bag for their needs. There are usually hundreds of different reviews for a specific product from a single diaper brand company.
This means that it can be difficult to find a review that directly pertains to the same situation of the consumer. However, the time expended to find one is definitely worth it.
---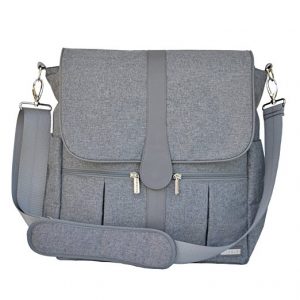 ---
Furthermore, lots of individuals will find that they will go through a range of different diaper bags throughout their lifetime. This means that looking at any kind of brand loyalty programs with these diaper bag brands is very important.
By being able to ascertain which diaper bag brands provide not only a great product, but provides great rewards for loyal customers, a consumer will be able to find the absolute best diaper bag brand for their situation. This can save lots of money, stress, and time in the long run.
In conclusion, finding the best brand of diaper bags can be quite difficult at first. However, after a bit of effort has been made to look into brands that specifically suit the needs and wants of a consumer, things will be made much easier.
Overall, there are many great brands out there that make diaper bags, and the extra effort expended to find these great brands is most certainly worth it.
---
best large diaper bags || best diaper bags for two kids || best designer diaper bags