As a busy mother, you certainly may have your hands full when it comes to taking care of your baby and also helping make income for the family. At times you certainly need to move out with the baby. Therefore you need to be adequately prepared.
There are quite a few things that you must take with you. Yes, if the baby is breast-feeding, then you must make sure that you have adequate stock of breast milk while you are on the move with your baby. Therefore, need to invest money in the best breast pump backpack.
Buying one after researching and due diligence may not be too difficult. However, you have to make sure that you maintain and regularly clean your breast pump backpack.
Remember, you use it to store precious breast milk for your baby and you cannot afford to be lethargic as far as the cleanliness of the backpack is concerned. We are listing down a few useful tips that may help you to keep your backpack in the best of the condition at all points in time.
Be Regular In Your Cleaning Habit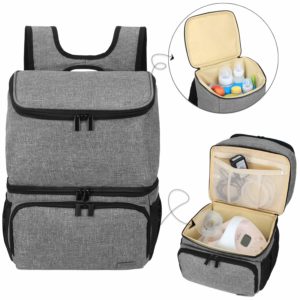 This is perhaps the first and most important lesson that you must keep in mind. Backpacks must be cleaned regularly. In spite of the best efforts and preparation, it is quite possible that breast milk may either leak or spill onto the backpack.
Unless you empty it and clean it regularly, it will develop stains and the backpack itself could be a source of bacterial growth and the risk of infections could go up significantly.
Hence, regular cleaning of the breast pump backpack is more of a habit than anything else. You must cultivate this habit at all costs since it involves the health and well-being of your baby.
Empty Your Backpack
There cannot be shortcuts when you are into the job of cleaning your backpack. Emptying the backpack is important because generally, the breast pump backpack comes with many compartments and divisions. You would not want to end up washing the backpack with some contents in the compartments.
This could create more problems and you may also end up damaging the expensive breast pump backpack.
Get Into Some Initial Preparatory Work
Make use of your hands to ensure that all loose dust that gets stuck in the exterior is removed thoroughly. Once the exterior dirt is removed, you could use a wet rag to carefully wipe the exteriors of the breast pump backpack.
Some backpacks may come with a removable frame. Ensure that the same is removed so that it does not get damaged. If there are any detachable pockets and slots, remove them. Also, do the same for straps and other such fixtures.
Look For Breast Pump Backpack Care Label
Most breast pump backpacks come with care labels. They have some instructions about the ways and methods of cleaning the backpack. Ready the label carefully and ensure that you follow it to the last word.
There could be certain chemicals that may damage the breast pump backpack. You could find details of the same in the care label. You should, of course, avoid using such harsh chemicals.
Pre-Treatment Of Stains May Be Needed
In spite of the best care, you may not be able to avoid stains getting embedded into your breast pump backpacks. The stains mostly are found on the exteriors but some stains could also be there in the interiors of the backpacks.
Find them out and use a suitable pre-treatment liquid and have them removed. This not only increases the looks and appearance of the breast pump backpack but also will enhance its overall life.
Wash It Lukewarm Water
If you have to wash your breast pump backpack, always follow some proven and time-tested ways and methods. You must soak the backpack in lukewarm water. The water must be kept in a container that is big enough to accommodate the backpack.
Never crush or force the backpack into the water container. In other words, never have a container that is too small for the backpack. You will damage the zipper and some compartments and the seams and stitches may also come off.
Use A Mild Detergent
Add a mild detergent to the lukewarm warm water and make sure that you soak it for a few minutes. Once it has been soaked take it out and rinse it in clean water. Look for some unremoved stains or dirt and if they are there clean them using a soft brush.
Conclusion
At the end of the day, make sure that you get into the habit of regular cleaning of your breast pump backpack. Follow the labeled instructions and be patient with the whole cleaning process. Never hurry it through.