Whether you need to make a dress, a pair of pants, or even DIY masks, you will need the best sewing machine to avoid inconveniences. Modern sewing machines tend to be of great quality and offer great performance if compared to the previous models.
That is because they have computerized programs, dozens of stitches, and other important features. It is due to those reasons that we have created a review and buying guide for you to follow before making a purchasing decision.
The best sewing machine under 500 listed tend to be of good quality than other machines, so we highly recommend them. Read through to find out more why you have to invest in any of them.
What should I look for when buying a sewing machine?
There are a few things to consider before making any purchase, especially if you are purchasing from online dealers. However, every product has pros and cons; that is why having ideas before purchasing is convenient. Here are the top factors to consider:
Basics
You should go for a machine that opens with ease of for.easy cleaning and maintenance. That is because if a machine is not cleaned, it clogs, thus ruining the machine.
More so, it should also have an open arm so that you can see pant legs and sleeves which need sliding into the arm of the machine.
You can also consider one with a universal pressure as it helps in automatic adjustment of various material thicknesses.
Therefore, the machine won't jam with thicker materials. Furthermore, one that is easy to tread will make it more convenient for use. If purchasing online, check customer reviews to find out more.
Stitch options
There are various basic stitches to consider:
. Straight stitch-  It is the most commonly used stitch
. Zig zag- Commonly used for finishing on raw edges.
. Stretch straight- Also known as precision stitch
. Tri motion- It is a stitch that finishes the edges and also prevents unraveling
. Blind hem- used to make unseen hems on the right-hand side of your clothing
. Buttonhole- It eases the struggle of making buttonholes for all types of clothing
Mechanical or Electronic
This factor depends on your preference. But, they function differently. For instance, for a mechanical machine, you have to turn the dials for appropriate stitches.
Electronic machines, on the other hand, makes automatic adjustment for you. All you have to do is is to press the button for the stitch you want.
Weight and size
It is a vital consideration factor as it determines its portability and storage. But remember, even small-sized machines vary in weight and portability. That is why it is necessary to at least lift the machine before making a purchase and if online check on the product information.
However, if you intend to use the machine at home, then a heavier machine will work. Also, heavier machines represent high quality with metal parts instead of plastic.
---
Best Sewing Machine Under 500 :
---
1. Janome HD3000 Sewing Machine
---
---
Janome HD3000 is a heavy-duty sewing machine with a step buttonhole, eighteen stitches, push-pull bobbin wider, snap-on pressure feet, and an extra high-pressure foot left.
Moreover, this mechanical sewing machine has lights, free arm, manual needle threading system, reverse stitching, a carrying case/cover, and an automatic Robbin winding.
It's manual thread tension adjustments are of 6.5mm * 4mm (width*length) in dimensions and an overall height of 15 inches from top to bottom. From side to side is 19," and the depth is 10″ from front to back.
Pros
Is of 7 piece Fred dog
A heavy-duty frame of 6.5 mm
Comes with a hard carrying cover/case
Has an inbuilt needle threader
Cons
Can push so hard through a material to interfere with the timing
---
2. Janome 7330 Magnolia Sewing Machine
---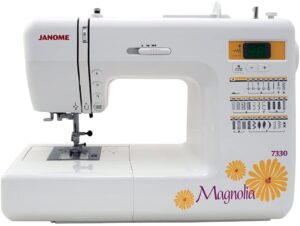 ---
Janome's main mission is to produce machines that are of innovation and creativity. Therefore they tend to produce machines of great performance, comfort, ease of operation, and high quality.
Janome 7330 magnolia sewing machine is a perfect machine that can create any kind of home decor by allowing you to add your flair taste.
With the thirty decorative stitches and other great automatic features, you will find yourself at a good price. Its backlit LCD screen displays the stitches easily, and you can also use the directional buttons to choose on the stitches besides adjusting their length and width.
Pros
Easy to use a start button that allows you to sew without pedaling
Its top-loading hook Robbin is of full rotary this you can see how much thread left through the window
Has 30 stitches with six buttonholes in just a step
Backlit LCD screen for knowing the stitch you are in
Cons
---
3. SINGER 7258 Sewing Machine
---
---
The singer 7258 sewing machine is a stylish computerized sewing machine of 100 built-in stitches and many accessories; thus, it is of great value. Its 100 stitches can do decorative sewing, crafting, quilting, fashioned sewing, and heirloom sewing comfortably.
Its frames are of heavy-duty metals that offer long-lasting durability to this sewing machine. You need not worry about the stitching length, width, or stitch you are using since it will automatically display on the large LCD screen that is clear and easy to view.
Other elegant features like the six-segment feeding system, horizontal threading, built-in reverse, programmable needle, speed control, extra high-pressure foot lifter, automatic pressure foot control, and electric start and stop makes it of high value.
With this best sewing machine under 500, you won't go looking for any other.
---
---
Pros
Built-in needle threader for easy threading
Clear cover and easy to load drop-in bobbin system
Has a stay right LED light that illuminates the workspace
On a step, you can achieve six buttonholes
Cons
---
4. SINGER 4452 Sewing Machine
---
---
SINGER 4452 sewing machine is a heavy-duty sewing machine that enables you to get professional and timely results. Its extra-high sewing speed up to 1100 stitches per minute allows you to plow through your projects thirty percent faster than a normal sewing machine.
The heavy-duty metal frame in the interior allows for skip-free sewing, whereas the stainless steel bedplate is great for the smooth flow of the fabric. Have this product to get much more bonus heavy-duty accessories.
---
---
Pros
A high-speed sewing machine that gets the work done in no time
Heavy-duty making for more durability
Comes with four heavy-duty bonus accessories
Has an automatic needle threader
Cons
Does not accommodate bigger spools of threat
---
Best Sewing Machine Under 300 :
---
5. SINGER 4411 Sewing Machine
---
---
SINGER 4411 sewing machine is a heavy-duty machine with up to 69 stitch applications, thus named a true workhorse.
Its metal interior frame is a heavy-duty, powerful motor, extra-high sewing speed, and stainless steel bedplate, this best sewing machine under 300 is capable of sewing through a wide range of fabrics.
Its outstanding features are top drop-in bobbin, four-step buttonhole, drop feed for button sewing, and an adjustable presser foot pressure that adds comfort to this sewing machine. You can easily see through heavy fabrics since it has a 60% stronger motor than the normal sewing machine.
Pros
Heavy-duty metal frame for durability
Easy to load drop-in bobbin with a clear cover
Automatic four-step buttonhole
The high sewing speed of up to 1100 stitches per minute
Cons
Problems with needle positioning
---
YOU MAY ALSO BE INTERESTED IN THESE:
Best Metal Detector Under 1000      Best Lawn Mower Under 200      Best Commercial Pressure Washer
---
6. Brother XM2701 Sewing Machine
---
---
The Brother sewing machine is perfect for multiple sewing projects. With a wide range of user-friendly features and lightweight design, this best sewing machine under 300 is perfect for both beginners to learn and advanced sewers to advance their versatility.
It has 27 built-in stitches that include decorative, blind hem, and quilting stitches of automatic one-step buttonholer that give perfect buttonholes.
Imagine this model comes with six quick-change sewing feet that include, zipper, buttonhole, zigzag, blind stitch, button sewing feet, and narrow hemmer; all these features make working with this sewing machine easy and convenient.
Pros
Lightweight for portability
Easy to the thread at all times
Brightly lit working area
Utility and decor easy stitch selection
Cons
Bobbin's cover is poorly designed.
---
7. SINGER Fashion Mate 3333 Sewing Machine
---
---
SINGER Fashion Mate 3333 sewing machine is a modernized, sleek, and easy to use a sewing machine with different features that can fit your requirements.
It has 23 built-in stitches patterns, including stretch stitches, basic stitches, decorative stitches, and a four-step buttonhole that is easy to use. With the stitches on the stitch selector dial, all you need to do is turn the dial or customize them using the adjustable stitch length.
The sewing area is illuminated using LED lighting—an easy to use drop-in bobbin with a clear cover to monitor your thread while sewing. The heavy-duty metal frame helps increase its long-lasting durability plus the different free accessories.
Pros
Durable and heavy-duty metal frame
Free arm sewing machine for easy access
Automatic needle threader that saves on time
Lightweight makes it easily portable
Cons
---
Best Sewing Machine Under 150 :
---
8. Suteck Portable Electric Sewing Machine
---
---
Suteck is a sewing machine that has 12 stitching modes. That is zigzag stitching, adjustable tension, backstitch, buttonholing, and many others. It is a great sewing machine for most beginners besides its elegant design that makes it a decent product for domestic use daily.
With its portable size of 26.7 * 11.4 * 28 cm, it can be easily stored. You can either power it using the included adaptor or batteries. You can easily control the speeds from low to high and use the double thread mode as well.
A built-in light illuminates the worktop plus the thread cutter that can easily cut the thread when you finish sewing.
Pros
Portable size great for storage as well
Easy to choose speed modes
12 stitching modes for different demands
Has cuff slot design for making pants and sleeves
Cons
---
9. TooFu Beginner Locking Sewing Machine
---
---
TooFu is a beginner portable sewing machine of 28 * 12 * 24cm in dimensions and of high quality and ABS, PC, POM, plate, and wire. The sewing machine is electronic and utilizes the power of up to 7.2W.
The small machine is perfect for household besides being easy to use, and antislip bottom for safety and firmness during its operation. Comes complete with needles, bobbins, power adaptor, needle threader, and it's user manual.
Besides, it comes with an overlook presser foot that allows the thread to wrap around the fabric edge to prevent it from unraveling.
Pros
Has a reversing overlook
Lightweight and compact for traveling
It is of high quality
Great for beginners
Cons
---
10. Top-Spring Beginner Electric Sewing Machine
---
---
Top-Spring is a beginner electric sewing machine of 28*12*24cm in size and is of a high-quality making using the plate, wire, PC, POM, and ABS. Its rated power is of 7.2W.
This best sewing machine under 150 is easy to use in that even girls, children, women, and beginners can easily meet their sewing demands. Moreover, its compact size and lightweight make it easily portable and stored in a small space.
Its pedal is easy to control using your foot and a start and off automatic operation. In addition to the sewing machine, it also comes with all you may require to work out like the needles, user manuals, needle threaders, and bobbins.
Pros
Lightweight and compact design
High-quality making
An electronic sewing machine that is easy to use
Comes with a reverse overlook
Cons
---
How often should a sewing machine be serviced?
This question is general, but it all depends on lots of factors. Although some people find it necessary to take servicing after six months, it is also true that it depends on some critical factors.
Use- if you use the machine daily, it means it will create lint build up. Wear out the machine parts and the lubricant used. In such cases, servicing the sewing machine in a year times can work for you.
If the machine is rarely used, then the lubricants may be seizing and congealing the machine. So next time you decide to use the machine, take it for servicing fast.
Purpose
If the machine is for heavy sewing fabrics or patchwork quilting, it needs more servicing because of build-up tint and other possible issues.
Maintainance
How often you maintain your machine also determines how much servicing you need.  If you do frequent maintenance, then it will take a long time before any service. But remember, a good service exceeds cleaning and maintenance, but it contributes to the machine's durability.
As a general answer, a sewing machine should be serviced for 12-18 months.  But you can also go for servicing incase the machine begins to squeak or stiff when sewing.
Conclusion
With advancements in this technology era, considering a high quality and good performing sewing machine will help you more. Modern sewing machines are easy to use, operate, and control. All you need is to command it by following the right process. Then, everything will work out.
We hope that our guide and review has provided enough information that you will be able to make the best decision. All the best as you search for the best sewing machine under 500 that meets all your needs.
---
YOU MAY ALSO BE INTERESTED IN THESE:
Best CNC Milling Machine      Best Car Polisher For Beginners      Best Battery Angle Grinder
---
FAQ Of Best Sewing Machine Under 500:
What is the average lifespan of a sewing machine?
With various brands in the market, you will find both cheap made and quality products. Cheaply made products are not as durable as expected. But, the durability of a sewing machine depends on its quality and maintenance.

Ideally, a sewing machine lasts about 5-years averagely. But that does not have to discourage you from spending. More so, some computer models last up to 25 years, although software may lower its lifespan.