With the advancement in technology, owning an LED flood light has now become easy. As a matter of fact, there are thousands of brands out there that promise to deliver top quality lights.
However, with so many manufacturers of flood lights, getting the best LED flood light may not be easy. You will need something that improves the quality of life, energy-saving, durable, bright and easy to use.
This post will give you an insight of the best flood lights in the market, why they are the top sellers and some of the drawbacks they have.
1. Upgraded SANSI LED Security Motion Sensor Outdoor Lights
---
---
The ultra-brightness of the LED heads of the upgraded SANSI LED flood light is what makes it quite popular. It also comes with a built-in motion sensor for dust-to-dawn sensing.
SANSI did not go wrong on the quality and durability of this flood light considering that it has a rugged and compact housing that lasts.
What I Like
What I like about this LED flood light is the fact that its coverage can light up to 50ft x 50ft when mounted at a height of 13ft. Therefore, a single light goes a long way and saves you the cost of going for more lights and spending more on electricity.
What I don't Like
As compared to other LED flood lights in the same category, the SANSI flood light doesn't have the best design. Therefore, this will only suit people who are only interested in the quality and performance of the light and not the looks.
Pros:
 It offers long range sensitivity
 Upgraded performance with tunable sensor and bright light
 Waterproof casing
Cons:
 You will need some installation knowledge as the light is wired into the house electrical system
---
2. Nilight 2pcs 7.5″ 36W Flood LED Light
---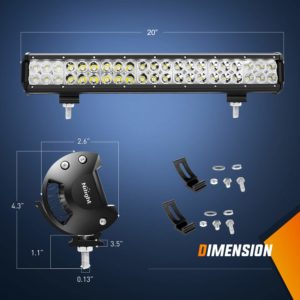 ---
The 7.5″ Nilight LED flood light is ranked as one of the best flood lights out there because of its high intensity LED chips that emit the brightest light beams for the darkest nights. To add to its brightness is the 3D projector lens that offers soft lighting to keep off any form of dizziness.
What I like
What makes this light one of the best from this category is the fact that it comes with two installation methods: the side mounting bracket and the adjustable mounting bracket. Therefore, the light meets almost all the needs of the user.
What I don't Like
The design of this light lets in moisture which means that the brightness may be interfered with if there is too much moisture in the atmosphere.
Pros:
 It is bright
 It is robust, compact and durable to withstand any impact
 Has a deep reflective cup that offers quality light
Cons:
 The lights burn out quickly
---
3. Ustellar 2 Pack 60W LED Flood Light
---
---
If you always work late in your garage, backyard or parking lot then this is the light you need to get. It can easily be attached to the roof of your house and light up a broader area than most flood lights in the market. It is reliable and offers stable lighting for better security of the premise.
What I like
Being a 60W flood light, Ustellar is very bright and powerful too. As a matter of fact, this single light is powerful enough to light up a big garage.
What I Don't like
Ustellar doesn't have a motion sensor which sets it back considering that similar flood lights have sensors.
Pros:
 As compared to others in the market, this flood light is quite affordable
 It is easy to install
It is compact and made from a durable material
Cons:
The lens is made of glass which means you will have to handle it with care
---
4. Kadision LED Flood Light 50W
---
---
The lighting efficiency of this flood light is 110 lm/W. What makes it stand out from the rest is the fact that it has a photocell sensor which turns off and on depending on the level of brightness of the surrounding. For instance, the flood light will automatically turn on when the sun dims to a certain level during sunset.
What I like
I like the fact that the housing of this flood light is equipped with 180 degrees adjustable knuckle. This allows the light to cover a much wider area.
What I don't Like
One major drawback of this light is that it is not completely waterproof. Therefore, the LED may stop working after heavy rain.
Pros:
 It is bright and easy to use making it better than a fluorescent tube
It has a long lifespan of 50,000 hours. Therefore, it will work more than 17 years if it works for 8 hours a day
Cons:
There is a glitch when the light intensity is at its threshold value
---
5. AMMON LED Flood Light
---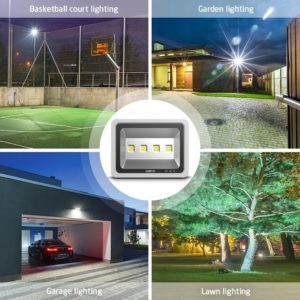 ---
This is the ideal light for a BBQ party, garden, family gathering and other outdoor activities thanks to the 200 watt LED chips (2000 lumens). It also comes with an easy to use flexible bracket which means anyone can adjust and angle to the perfect position. It is also easy to install onto the wall of the garage or garden.
What I Like
This is one of the brightest lightS ever and is highly recommended to customers who hold different functions in the open at night. Other than that, I also like the fact that it supports wide AC voltage from 110 to 220V.
What I don't Like
The LED chips are packed so internally and tightly which means replacing the bulbs when they burn out might be the most difficult task.
Pros:
 The light is instant on. Therefore, it takes a very short time to get to its full brightness
 It is easy to install as it doesn't involve the cumbersome wire connection
Cons:
 Its light output is not adjustable
---
With that in mind, choosing the best LED flood light should be an easy task. All the above-mentioned lights will be a perfect addition to the security system of a building.
They will also add beauty and style to your space. Therefore, to enjoy that and other benefits of these flood lights, ensure that they are installed at the most strategic points..
---
YOU MAY ALSO BE INTERESTED IN THESE:
Best Bluetooth Light Bulb Speaker         Best Floor Lamp For Reading         Best Bed Reading Lamp
---